Malti
His Holiness Pope Francis will make an Apostolic Journey to the Republic of Malta from the 2nd to 3rd April 2022. The theme of the apostolic journey is: "They showed us unusual kindness."
An Opportunity to Learn and to Express ourselves
The visit is an opportunity to learn about attitudes that Pope Francis encourages us to live together as brothers and sisters. The Church in Malta and Gozo would like to invite children, adolescents and youth in all State, Church and Independent schools to grow in the attitudes of Pope Francis. This is by:
Getting to know more Pope Francis.
Share our hopes and dreams of living as brothers and sisters on the Maltese Islands.
---
1. Getting to Know Pope Francis More
2. Sharing our Hopes and Dreams with Pope Francis
After getting to know more about Pope Francis and how to live as brothers and sisters, watch this video where Maria and Iona are going to make us an interesting invitation about the theme:
All Brothers and Sisters – My hopes and dreams of living as brothers and sisters on the Maltese islands.
We invite the students to express themselves in an artistic way, what the theme means to them, and how they want it to mean to Pope Francis during his visit about this theme.
Kinder and early years – Drawings, Collages
Primary, Middle, and Secondary – Any form of art, writing, or short video production in any language. Surprise us with your creativity!
Drawings/Artwork is to be created on an A4-sized paper using pens, pencil, crayons, textas, or paint.
A short two-minute video may be taken while the children are working together to shape their drawing /artistic expression.
Any kind of text (essay, short story, poem, memoir, word cloud, etc). Writings should not exceed the 300-word limit.
Create a short video clip – Video production must be 2 minutes long (create a short video clip and describe the theme, record an interview, etc.)
Each school is to collect all students' artistic work and:
Scan it in High Resolution (ideally by using a scanner)
Bind it creatively
Send the hard copy of the artistic expression to: Spiritual Development in Schools, Archbishop's Curia, P.O. box 1, Floriana FRN 1535
Send the soft copy via this link: https://popefrancis.mt/ilkoll-ahwa-submit
Notify us
Participating schools are to notify via email Fr Reuben Gauci (State and Independent Schools) and Sr Alexandra Chircop (Church Schools) by not later than 11th March 2022.
Closing Date to send the digital material
Submissions of the students' artistic work are to be sent by not later than 18th March 2022
---
The Places where Pope Francis is visiting
On Saturday 2 April 2022 at 10.50 am Pope Francis will make a courtesy visit to the President of the Republic in the Ambassadors' Chamber of the Grand Master's Palace. At 11.35 am Pope Francis will be meeting with the Prime Minister in the Pages' Chamber of the Grand Master's Palace. At 11.50 am Pope Francis will be meeting the authorities and the Diplomatic Corps in the 'Grand Council Chamber' of the Grand Master's Palace. This includes an address of the Holy Father.
On Saturday 2 April 2022 at 5.00pm, Pope Francis will arrive at Port of Mġarr. A prayer meeting at the National Shrine of Ta' Pinu will follow together with the Homily of the Holy Father. Pope Francis will leave the island of Gozo by ferry from the Port of Mġarr to Malta at 6.45 pm.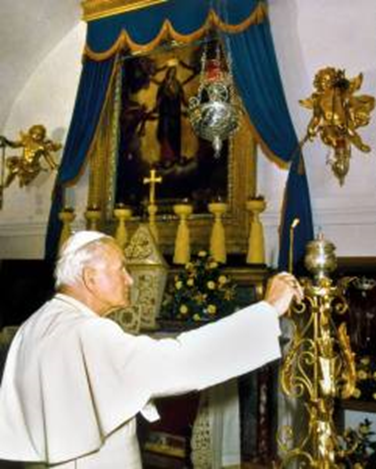 On Sunday 3 April 2022 at 7.45 am Pope Francis will have a private meeting with the members of the Society of Jesus at the Apostolic Nunciature in Rabat. A visit to the Grotto of St Paul at the Basilica of St Paul in Rabat will follow at 8.30 am.
On Sunday 3 April 2022 at 4.45 pm, Holy Father will hold during a meeting with migrants at the John XXIII Migrants' Centre in Ħal Far.
On Sunday 3 April 2022 at 10.15 am, Pope Francis will celebrate Holy Mass at the Granaries in Floriana.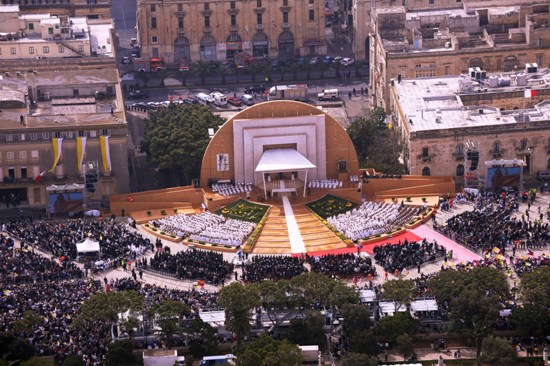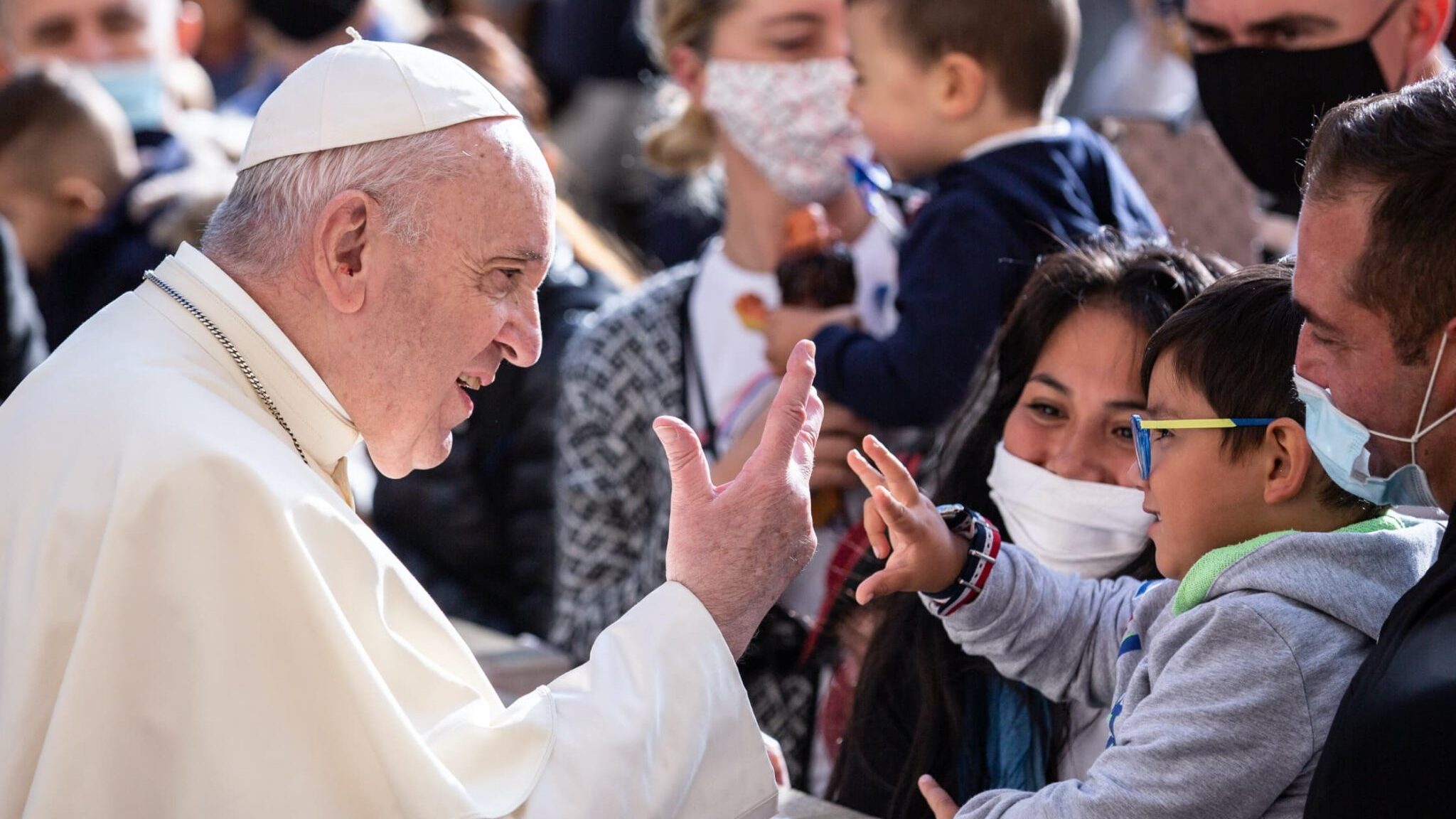 What does Pope Francis teach?
Prayer for the Visit of Pope Francis in Malta
Mulej Ġesù Kristu, għalik tixxennaq ruħna.
Agħmel, nitolbuk, li ż-żjara tal-Papa Franġisku fostna
tkun waħda li tlaqqagħna miegħek biex nitgħaxxqu bi mħabbtek
u, fl-Ispirtu tiegħek, nagħrfu lkoll li aħna wlied ta' Missier wieħed,
u ngħixu r-rabta tagħna ma' xulxin fis-sliem. Ammen.
Lord Jesus Christ, our souls long for you.
We, pray, that Pope Francis' visit among us is one
that binds us together, cross the path with you
to be delighted with your love and in your Spirit,
we recognize that we are the offspring of one Father,
and live our bond with one another in peace. Amen.
Past Popes' visits to Malta
The first Pope to visit Malta was John Paul II between the 25th and 27th May. This visit was the Pope's 48th Apostolic Trip outside Italy in the first 12 years of his Pontificate.
On the 8th May 2001, His Holiness visited Malta once again as part of his Pauline pilgrimage during which he also visited Greece and Syria. On the second and last day of his visit, His Holiness beatified Dun Ġorġ Preca, Nazju Falzon and Adeodata Pisani.
Pope Benedict XVI has been invited by the Bishops of Malta and the President of the Republic to visit Malta on the occasion of the 1950th anniversary of St Paul's shipwreck, which according to tradition occurred in 60 A.D. Large celebrations were held in Malta in 1960 to commemorate this centenary.

Malti