On Monday 7th and 14th of March 2022, the Spiritual Development in Schools team within the Archdiocese of Malta, organized a webinar for parents and caregivers with the theme: 'How are we going to live Lent at home?' The guest speaker was Ms Mariella Catania.
In this webinar, Ms Catania gave a very practical, knowledgeable, and interesting talk about the liturgical season of Lent, it's meaning and spirit as a period of preparation and spiritual growth before the celebration of Easter. Ms Catania explained the deeper spiritual meaning of Catholic practices during Lent such as fasting, Lenten penance, traditional Lenten prayers and liturgical celebrations. She gave many practical examples of how fasting and other Lenten traditions can be celebrated at home within families.
Ms Catania drew on various sources such as the Catholic Central.com website and the book Catholic All Year Round by Kiendra Tierney as well as many other online sources to explain how to create meaningful decorations, prayers, activities and crafts to celebrate the Lenten season at home. Some examples of these activities are The Kidney Bean Sacrifice Jar activity in which family members do penance with the aim of helping others. These are symbolically represented by kidney beans which are later exchanged for celebration beans.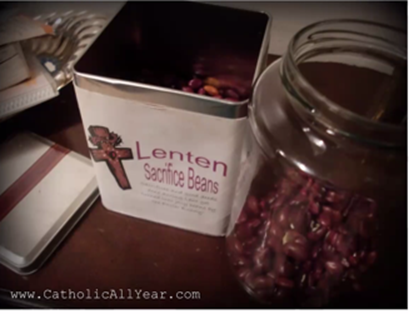 Another interesting activity is the Spy Wednesday Money Game in which family members put some money in a bag and hunt around the house for it. The family then meditate on Judas Iscariot and what he did wrong.
Ms Catania also recommended activities using sacramentals, a study of important characters in the Stations of the Cross or in the Good Friday procession, a simple Passover celebration activity, celebrating Lenten season solemnities, Washing of the Feet celebration and Pancake Day for Maundy Thursday.
Ms Catania also recommended reading a simplified version of the life of Saints as spiritual reading as well as celebrating the precepts of the church with an emphasis on the sacrament of reconciliation, the Eucharist and active participation in the liturgical celebrations of the Adoration of the Cross (which can also be done at home) and the Easter Vigil.
Various links and resources related to Lent at home
Lent resources by Catholic Brain
Multimedia Stations of the cross for Children
Lent Liturgical Seasons Feasts
Restore: A Guided Lent Journal for Prayer and Meditation (Book)