The story is about a family who likes to go for a walk and swim in Mistra Bay. Daddy plans fun games to play with his children like 'Hide and Seek' among the reeds and trees and on the sand. Once they played a game with pebbles. First, they thought of people who said unkind words to them and hurt their feelings. Then, they threw the pebbles into the sea as a sign of forgiveness.
Ages
Primary Years
Middle Years
---
Żomm Ċagħka f'Idejk u Itlaqha
"Min hu barra barra u min hu ġewwa ġewwa!" qal il-papà hekk kif Ryan u ħutu marru jiġru jistaħbew wara s-siġar u l-ħitan tas-sejjieħ. U l-papà beda jfittex lit-tfal tiegħu wieħed wieħed u waħda waħda. Kull darba li jsib lil xi ħadd fil-moħba tiegħu jgħajjat l-isem biex juri li jkun rah jew raha u jgħajjat il-kelma 'Rajtek'. Imbagħad dak li jkun, imur jiġri fuq il-papà biex jerfgħu minn taħt idejh, jgħollih 'il fuq u jgħannqu waħda kbira miegħu.
Din hija waħda mill-logħbiet favoriti ta' Ryan. Huwa jħobb jilgħab Noli, qalb is-siġar u l-friegħi tal-qasab tul il-passaġġ li jwasslek għall-Bajja tal-Mistra, limiti tax-Xemxija. Il-familja tiegħu ta' spiss imorru jagħmlu mixjiet fil-Mistra speċjalment fir-rebbiegħa meta n-natura tkun qed tieħu l-ħajja.
Fis-sajf, iħobbu jmorru tard waranofsinhar biex ix-xemx ma tkunx taħraq ħafna. Huma jħobbu jgħaddu l-ħin fuq il-bajja, jilagħbu fuq ir-ramel, jieklu, jgħumu u jitkellmu bejniethom sa tard filgħaxija.
Trid tarahom jilagħbu kollha flimkien bħala familja bl-aktar affarijiet sempliċi. Xi drabi l-bajja tkun mimlija alka niexfa u l-gost tagħhom jintefgħu fuqha waqt li ġisimhom jinkesa kollu bl-alka kannella. Dak il-ħin isiru karattri immaġinattivi u jibdew jiġru wara xulxin bl-alka mwaħħla magħhom. Kemm jidħqu bil-qalb meta missierhom jivvinta xi kummiedja biex ikompli jdaħħaqhom u jferraħhom! Imbagħad ġirja waħda kollha għal ġol-baħar u l-alka titlaq kollha.
Huma jkomplu jilagħbu fil-baħar billi xi aħwa joqogħdu jitfgħu l-ballun lil xulxin filwaqt li l-oħrajn jew jinku lil xulxin bħal meta jtajru l-ilma jew jirrumblaw lil xulxin minn fuq il-lilo.
Darba minnhom il-papà qal lit-tfal tiegħu: "Illum ser nilagħbu logħba differenti biċ-ċagħak u ser insemmuha, 'Żommni ftit f'idejk u itlaqni fil-baħar'. U li ser nagħmlu huwa hekk: Ser immorru fit-tarf tal-bajja, noqogħdu bilqiegħda fuq iċ-ċagħak u nżommu ftit distanza biex ma ntellfux lil xulxin.
Imbagħad se naqbdu ċagħka u waqt li nżommuha għal ftit ħin f'idejna, ser naħsbu f'persuni li qalulna kliem iebes jew għamlulna xi ħaġa kerha u b'hekk weġġgħulna qalbna. Imbagħad meta tħossukom lesti, itfgħu ċ-ċagħka l-baħar bħala sinjal li ħfirtulhom. Min irid jista' jkompli jaħseb u jitfa' aktar ċagħak."
Wieħed mill-aħwa qabad ċagħka żgħira f'idu u ħaseb meta ħuh l-ieħor ħadlu t-trakk biex jilgħab bih u spiċċa nesieh warajh ġol-ħaxix. Għalkemm kien ħassu rrabjat ħafna kien lest li jinsa u jaħfirlu u għalhekk tefa' ċ-ċagħka l-baħar, bħala sinjal li ħafirlu. 'Splaxx!'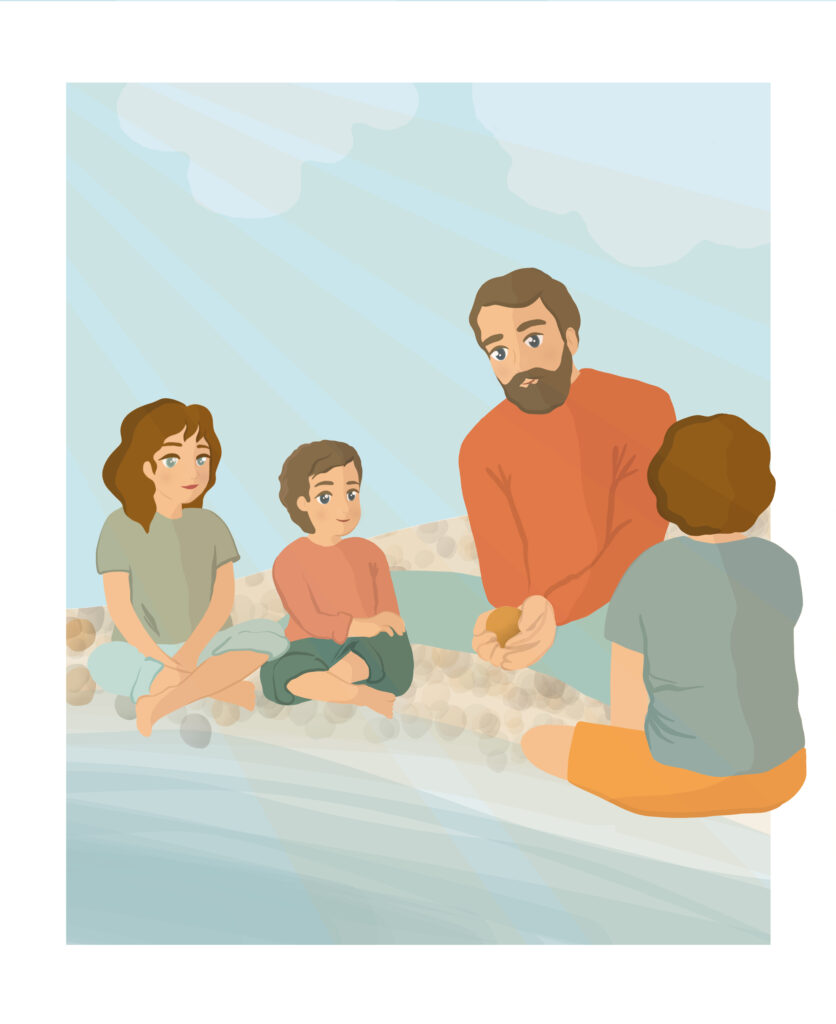 Oħtu qabdet ċagħka sabiħa u ħasbet f'xi ħbieb li għall-ewwel kienu ħelwin magħha, imbagħad bdew jinkuha u jaqbdu magħha għal xejn b'xejn. Għalkemm ma kinitx faċli għaliha, hi tefgħet iċ-ċagħka l-baħar u ħafritilhom ukoll. 'Splaxx!'
Ħuhom ieħor qabad ċagħka kbira f'idu u ħaseb f'meta xi ħadd mill-klassi tiegħu waħħal fih li seraq il-pokit tal-lapsijiet.
Huwa żammha magħfusa f'idu għal ftit ħin imbagħad tefa' ċ-ċagħka l-baħar għax kien lest li jaħfer lil dak li gideb fuqu.
Oħthom tan-nofs ħasbet f'meta kienet marret skola ġdida u għall-bidu ħadd ma ried jaċċettaha u jilgħab magħha. Hija ħafritilhom u tefgħet iċ-ċagħka l-baħar ukoll.
Ryan, il-kbir fost l-aħwa, sab post aktar lil hinn minn ħutu biex ikun għas-skiet u l-ħemda tal-bajja. Waqt li poġġa fuq iċ-ċagħak, beda jaħseb f'dawk il-mumenti li xi drabi ħassu xi ftit imwarrab mill-ġenituri tiegħu biex jagħtu l-attenzjoni tagħhom lit-tarbija l-ġdida li kellhom. Fis-skiet qabad ċagħka u żammha f'idu. Huwa talab lil Alla jgħinu biex ma jibqax iħossu mwarrab u biex jifhem aktar il-bżonnijiet li għandha t-tarbija l-ġdida.
Wara li lestew il-logħba taċ-ċagħak, il-ġenituri u t-tfal reġgħu nġabru flimkien. Kollha qalu li ħassewhom tajjeb wara li tefgħu ċ-ċagħak fil-baħar bħala sinjal li ħafru lill-persuni li ħasbu fihom. Imbagħad irringrazzjaw lil Alla tal-ħin sabiħ li għaddew flimkien u tas-sens sabiħ li bħala familja dejjem jiskopru xi ħaġa ġdida flimkien.
"Ready or not, here I come!" said Daddy, as Ryan and his siblings ran to hide behind the rubble walls and trees. Daddy began to look for his children. Every time he located someone in his or her hiding place, he called their name and shouted the words "I saw you". Then whoever he or she was, run to their father to be lifted up from under the arms and given a hug.
This is one of Ryan's favourite games. He likes to play Hide and Seek amongst the reeds and trees along the path that leads to Mistra beach, at the limits of Xemxija. His family often goes for walks at Mistra, especially in the spring when nature is in full bloom.
In summer, they like to go there in the evening, so the sun would not be too hot. They like to spend time on the beach, play on the sand, eat, swim and chat until late.
The family plays together with the simplest things. Sometimes when the beach is full of dry seaweed, they enjoy themselves rolling on it until their whole body is covered with brown seaweed. As the seaweed sticks to their bodies, they imagine themselves turning into a particular character and run after each other. They laugh heartily as their father comes up with a jolly idea to further cheer them up. Then, they all run and jump into the sea to get rid of all the seaweed.
They continue to play in the sea and the siblings either throw a ball to each other, splash water or roll each other over the lilo.
One day the father said to his children, "Today we are going to play a different game with pebbles. We shall call the game 'Hold a pebble and let it go'.
"And this is what we are going to do: We will all go to the edge of the beach and sit on the pebbles while keeping some distance from each other so we do not get in each other's way. Then, each one of us will take a pebble, hold it dearly in our hands and think of hurtful things that others have said or done to us. Then, we will 'let go' of the pebbles into the sea as a sign of forgiveness."
One of the brothers grabbed a small pebble in his hand and thought of the instance when his brother had taken his toy truck and left it behind him in the grass. Although he felt very angry at his brother, he was ready to forget this and forgive him. So he threw the pebble into the sea as a sign of forgiveness. 'Splash'.
His sister grabbed a shiny pebble and thought of some of her friends who at first had seemed friendly and sweet but later had begun to tease her and call her names. Although this was a hard thing to do, she managed to let go of the pebble into the sea as a sign of forgiving them. 'Splash'.
Another brother grabbed a large pebble in his hand and thought of someone in his class who had blamed him for stealing his pencil case when in fact he had not. So he held the pebble in his hand for some time. Then he let it go into the sea as a sign of forgiving his friend.
Another sibling took a pebble and thought about her transition to a new school. At first no one wanted to accept her in class or play with her, so she had to stay on her own. Now that things were better, she was ready to forgive them, so she let go of her pebble into the sea too.
Ryan, the eldest of the siblings, found a quiet place further down the beach.
As he sat on the pebbles, he thought of the moments when he felt isolated by his parents in order to give their attention to their new baby. In silence he grabbed a pebble, held it in his hand and asked God to help him not to feel left out and to better understand that the newborn needed lots of attention. He then let go of the pebble into the sea.
When the game was over, the parents and the children came together again. They shared how they felt while letting go of the pebbles into the sea as a sign of forgiving those who hurt them.
Finally, they thanked God for spending an amazing evening together and for the sense of discovering something new as a family.
---
Resources related to this story
---