The story is about a boy who went camping with his scouts' friends at Għajn Tuffieħa. Amongst the camps that were set up, there was a camp with cushions inside it so anyone who wanted could enter and appreciated moments in silence. The boy recounts how much he felt at peace in the 'Be Still' camp.
Ages
Primary Years
Middle Years
Topics
---
Wara Ġimgħa Camping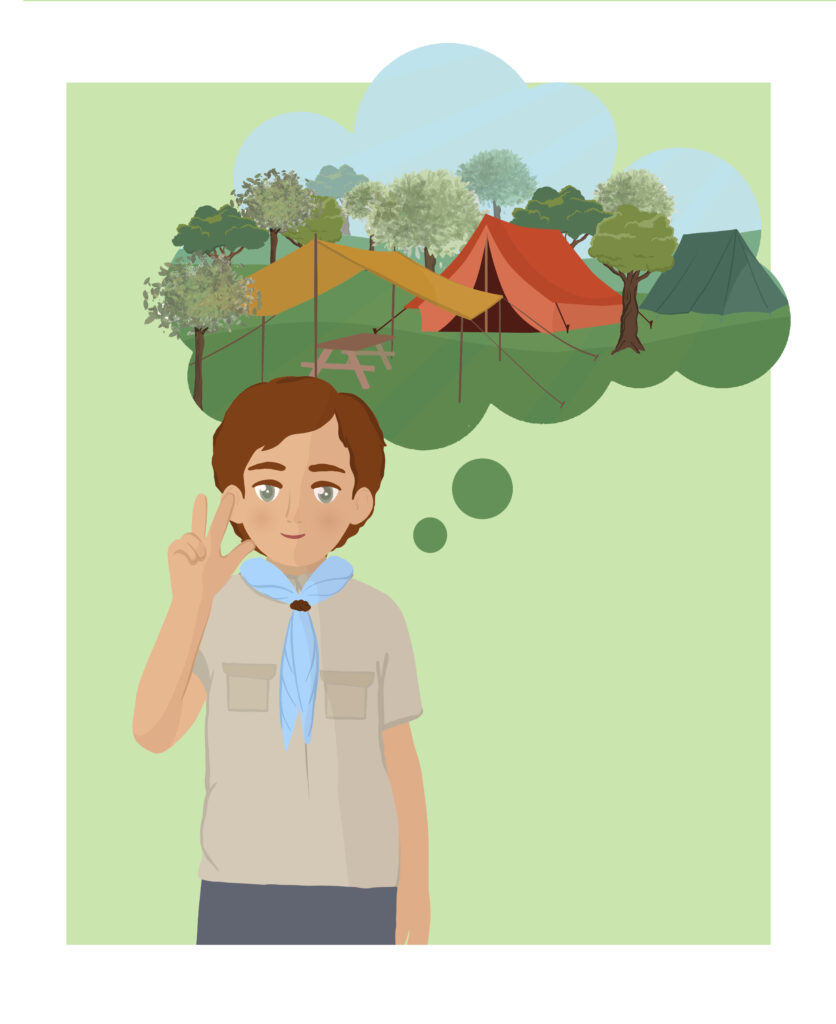 Ferħan se jtir, Daniel beda jirrakkuntalna x'għamel waqt li kien ġimgħa camping f'Għajn Tuffieħa mat-tfal sħabu tal-iscouts. Trid tisimgħu jirrakkonta dwar kemm tgħallem jarma l-kampijiet u jorbot il-ħbula. Tgħallem ukoll iqabbad il-ħatab u jsajjar l-ikel fuqu. Kellu ġranet mimlija daqs bajda, b'attivitajiet differenti, logħob, kant u taqbiliet u xi għawma ma naqsitx ukoll. Fuq kollox Daniel, għamel ħbieb ġodda u sar jafhom aktar mill-qrib.
"Din is-sena armajna tliett kampijiet," qalilna Daniel b'entużjażmu fuqu waqt li kompla jirrakkontalna. "Armajna kamp kbir bl-imwejjed, biex nieklu taħtu, kamp imdaqqas biex norqdu fih u armajna kamp ieħor speċjali taħt siġra kbira 'l bogħod mill-kampijiet l-oħra."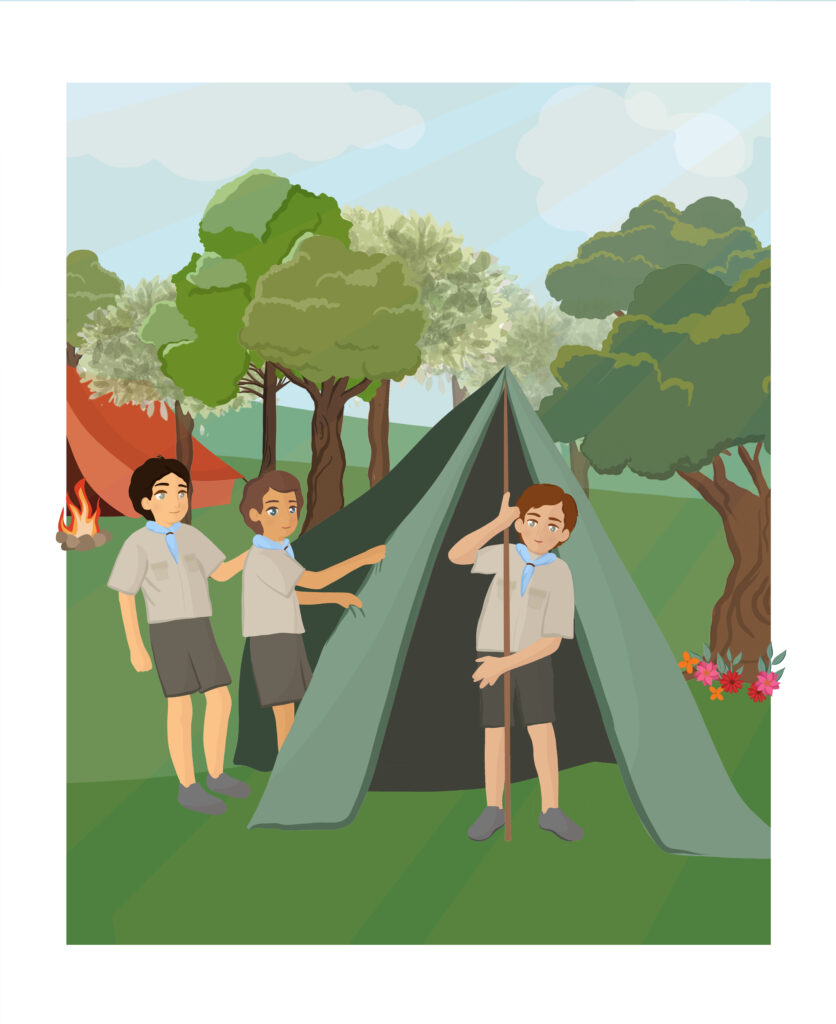 "U tafu għal xiex armajnieh dan il-kamp?" staqsiena Daniel.
"Dan il-kamp armajnieh biex min ried, seta' jidħol fih, joqgħod għall-kwiet u japprezza s-silenzju. Jien dħalt ħafna drabi u poġġejt fuq il-kuxins li kien hemm fih. Hemmhekk la rajt televixin, la qgħadt nisma' d-diski, la smajt l-għajjat ta' sħabi waqt il-logħob u lanqas l-istorbju tal-ġeneratur biex ikollna d-dawl. Fil-kamp tas-silenzju ma kien hemm ħoss ta' xejn. Ġieli kont inqum filgħodu kmieni apposta biex immur fil-kamp u minn hemm nara l-friefet u l-għasafar jittajru mas-siġra. Anke matul il-lejl ġieli mort fil-kamp. U waqt li kont nimtedd fis-skiet kont noqgħod nitpaxxa nħares lejn tant u tant kwiekeb li hemm fis-sema.
"Ġol-kamp kien hemm imdendel powster b'vers minn Salm: Be silent in the LORD's presence and wait patiently for him. Waqt li kont inkun fil-kamp, kont noqgħod naħseb x'seta' jfisser dan il-vers. Ġurnata minnhom staqsejt lill-grupp leader u tani dan l-eżempju li meta wieħed ikun irid ikellem lil xi ħadd, ma jridx ikun hemm storbju għaddej għax inkella ma jifhmekx.
"U l-istess aħna, aktar ma nkunu fil-kwiet u s-silenzju aktar insiru konxji tan-natura u l-ħolqien u nisimgħu lil Alla jkellimna f'qalbna.
"Kemm ħassejt paċi f'qalbi f'dak il-kamp fis-skiet. Bdejt nitkellem m'Alla u għidtlu grazzi ta' din is-serenità li bdejt inħoss ġewwa fija.
"Min jaf? Forsi d-darba li jmiss jekk tkunu ser tmorru camping, tagħmlu din l-esperjenza intom ukoll!"
After Camping for a Week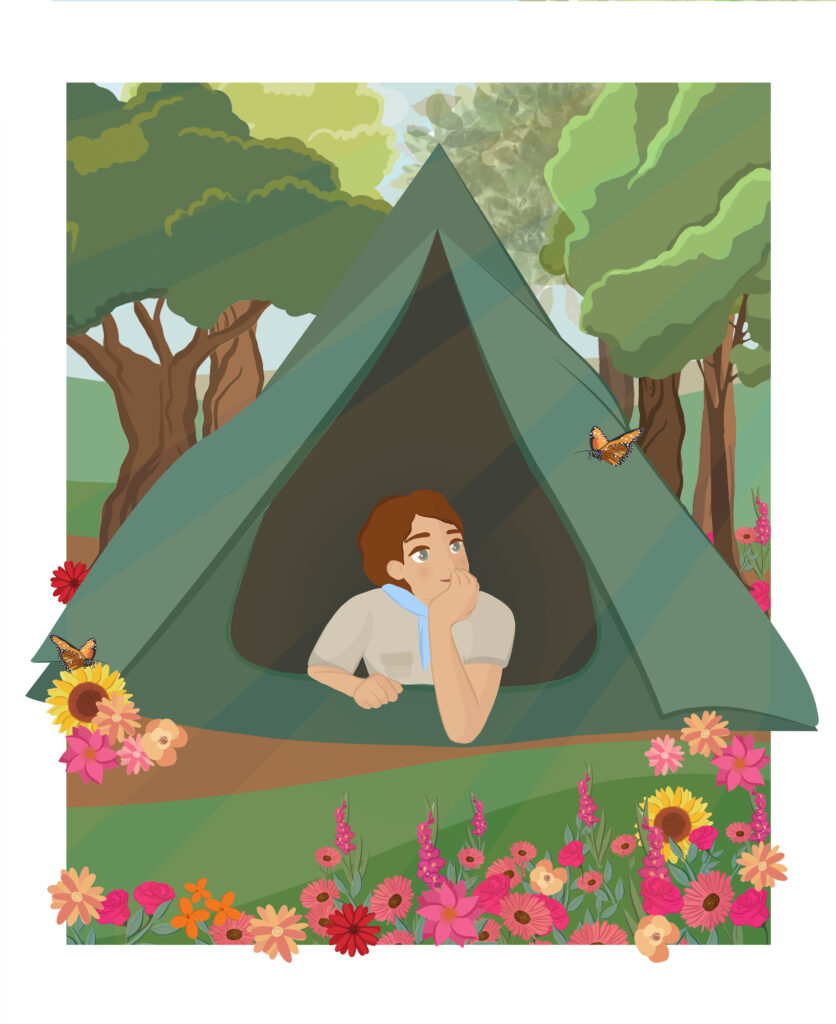 Daniel was on cloud nine as he began to tell us what he had done while he had been camping for a week with his scout friends at Għajn Tuffieħa. He shared how much he had learnt about assembling camps and tying ropes. He had also learnt how to light firewood and cook on it. His days had been jam-packed with various activities, games, singing and rhyming and swimming. Above all, Daniel had made new friends and got to know them better.
"This year, we put up three tents," said Daniel enthusiastically and continued, "We put up a large tent with tables to serve us as a dining area, a medium-sized tent to sleep in, and we put up a special tent under a huge tree away from the other camps."
"And do you know why we put up this tent?" Daniel asked us.
"We put up this tent so that those of us who wanted, could go inside it, be still and appreciate silence. I entered many times and sat on the cushions which were inside it. While in this tent, I did not watch any television or listen to any music. Neither did I hear any shouting from my friends as they played games and not even the sound of the generator that provided us with electricity. In the Be Still tent, there was sheer silence.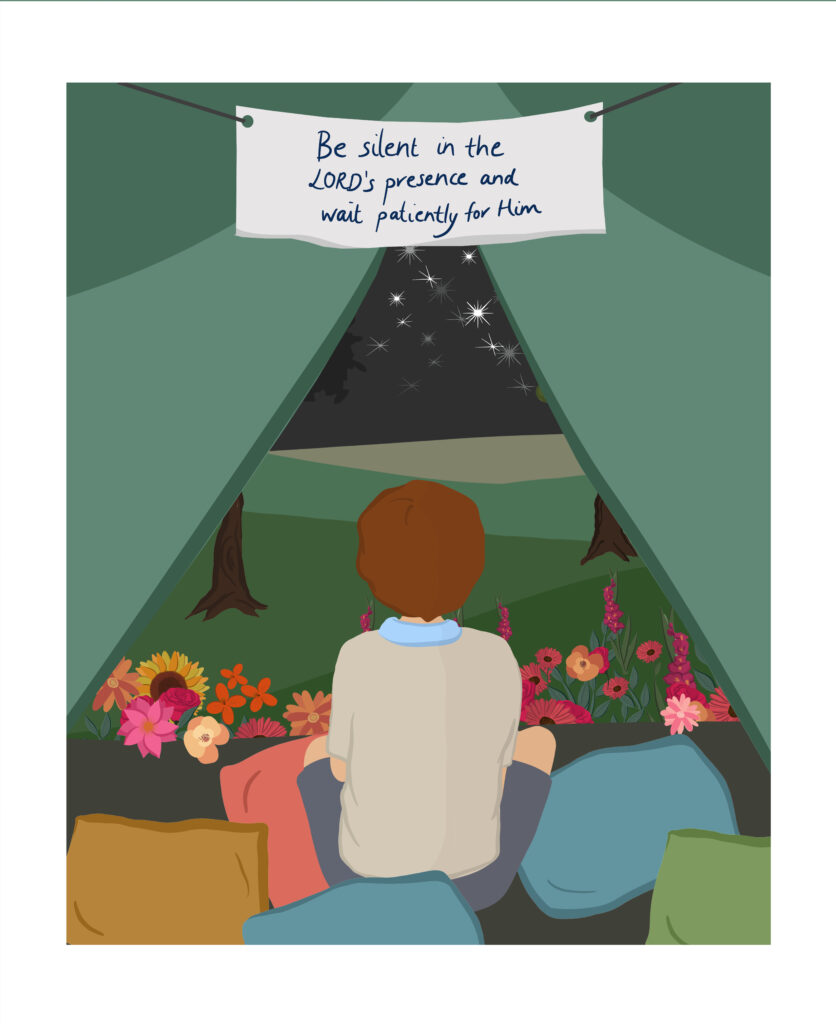 "Sometimes, I used to wake up very early on purpose so that I could go inside the tent and look at the butterflies and birds flying above the tree. Even during the night, there were times when I went in the tent, lay down in silence, and simply enjoyed looking at the countless numbers of stars in the sky.
"Inside the tent, there was a hanging poster with a Bible verse written on it: Be silent in the LORD's presence and wait patiently for him.
"While I was in the tent, I wondered what this verse meant. One day I asked the group leader, and he gave me an example. He told me that when someone wants to speak to someone else, there must not be loud noises as otherwise they do not understand each other. This goes for us too, and the more we are in silence, the further we become aware of nature and creation, and listen to God's voice in our heart.
"I felt so peaceful and calm in the Be Still tent. I had a conversation with God and thanked him for the serenity I felt in my heart.
"Who knows? Maybe the next time you go on a camping trip, you will also experience this for yourself!"
---
---
Resources related to this story
---