The story is about two brothers who moved houses several times. In their new home, they decorated their bedroom wall with eye-catching wallpaper and then they painted a prayer wall on it.
Ages
Primary Years
Middle Years
---
Wallpaper li Jiġbed l-Għajn
"Ma rridx nitlaq minn din id-dar jien. Għalfejn ser nerġgħu nitilqu minn din id-dar biex immorru noqogħdu f'dar oħra u f'post differenti? Hawn irrid nibqa' ngħix jien. Nobogħdok! Itlaq 'l hemm," beda jgħajjat Manwel waqt li beda jsabbat saqajh mal-art.
Manwel, li għandu disa' snin, beda jgħid dan il-kliem iebes lil missieru għax kien qed iħossu rrabjat u mbeżża' ħafna. Din hija t-tielet darba li hu u ħuh iż-żgħir ser jitilqu mid-dar tagħhom biex imorru jgħixu f'dar oħra.
L-ewwel darba kienet meta marru jgħixu man-nanna għal żmien twil sakemm il-mamà tagħhom kienet l-isptar għall-kura minħabba marda serja.
It-tieni darba li marru jgħixu f'dar oħra kienet wara l-mewt tal-mamà tagħhom.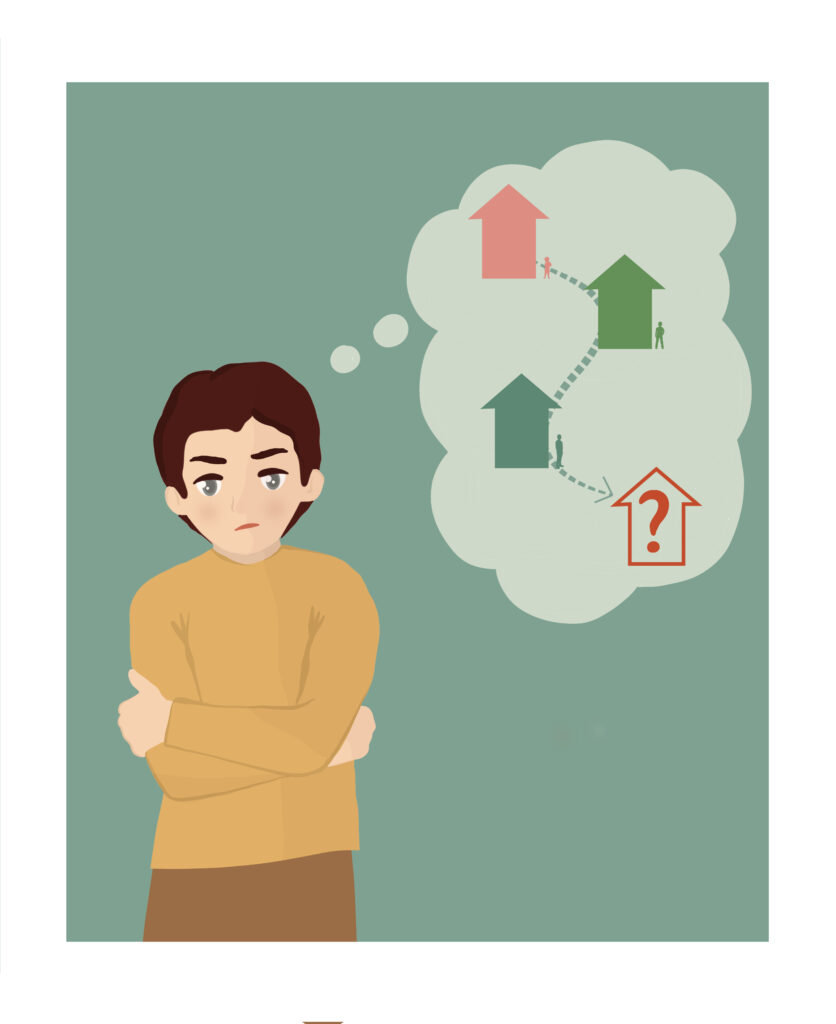 U issa ser jerġgħu jitilqu mid-dar biex imorru joqogħdu f'dar ġdida fil-kampanja qrib l-għelieqi u l-istalel taż-żwiemel li għandu l-papà tagħhom.
Manwel u ħuh ħassewhom imdejqin ħafna għax bdew jinkwetaw li fil-kampanja mhux ser jiltaqgħu ma' tfal oħra tal-età tagħhom ma' min jilagħbu, u li mhux ser ikollhom il-ħwienet favoriti tagħhom minn fejn jixtru ġelat u xi ikel li jħobbu huma. Beżgħu li fl-iskola l-ġdida li sejrin fiha ser ikun hemm min ma jifhimhomx meta xi drabi jmorru l-iskola bla ħobż, bl-uniformi xi ftit maħmuġa jew meta jkunu għajjenin ħafna.
Li jmorru joqogħdu f'dar differenti kienet tfisser li kellhom iħallu dak kollu li kienu diġà draw u jridu jerġgħu jadattaw lilhom infushom. Riedu jidraw jgħixu f'ambjent ġdid qalb l-għelieqi, jidraw is-sistema ta' skola ġdida u riedu jagħmlu ħbieb ġodda.
Din l-esperenza kienet qed taffettwalhom l-iżvilupp u l-imġiba tagħhom kemm fid-dar kif ukoll l-iskola.
Missierhom, li kien iħobbhom ħafna, fehem il-għala kienu qed iħossuhom imdejqa u rrabjati. Beda jgħidilhom li hu wkoll kien ser iħoss in-nuqqas tal-ġirien ħbieb tiegħu. Huwa qawwielhom qalbhom u qalilhom li ser ikunu jistgħu jistiednu xi ħbieb ġodda mill-iskola l-ġdida li ser jattendu fiha u li ser ikunu jistgħu jiġu jilagħbu fl-għalqa magħhom u juruhom iż-żwiemel.
Biex aktar iferraħ lit-tfal tiegħu u għax jaf kemm huma kreattivi u mimlija enerġija, il-papà qalilhom ukoll li biex iħossuhom komdi u siguri fil-kamra tas-sodda l-ġdida tagħhom, jistgħu jiddekorawha kif jixtiequ huma.
Wiċċ it-tfal xegħel bil-ferħ kif semgħuh jgħidilhom hekk.
U staqsewh,"Pa, pa, nistgħu nwaħħlu wallpaper b'xeni ta' annimali, tal-isports favorit tagħna, jew ta' xi karattru tal-films li nħobbu?"
"Iva, mela, tistgħu," weġibhom il-papà. Kif rahom daqshekk ferħana, dak il-ħin stess baqgħu sejrin għand tal-ħanut biex jixtru l-wallpaper.
Wara li xtrawhom, marru dritt id-dar il-ġdida. Kif waslu, niżlu mill-karozza, fetħu l-bieb tad-dar u daħlu sparati fil-kamra tas-sodda tagħhom. It-tfal fetħu roll wallpaper b'xeni ta' annimali tal-ġungla u bl-għajnuna tal-papà bdew iwaħħluh ma' parti tal-ħitan. Imbagħad fetħu roll wallpaper differenti b'xena ta' briks u waħħluh mal-kumplament tal-ħajt.
Kif il-kamra kienet iddekorata lesta bil-wallpaper, il-papà refa' liż-żewġ subien tiegħu, wieħed fuq kull id u bieshom waħda kbira filwaqt li qalilhom, "Araw kemm ġiet sabiħa l-kamra tagħkom! Issa nixtieqkom iġġibu marker tal-kulur favorit tagħkom u pinġu jew iktbu xi ħsieb sabiħ li tridu intom fuq il-wallpaper biss li għandu xena ta' briks. Tajjeb?" staqsiehom il-papà hekk kif beda ħiereġ mill-kamra biex imur isajjar fil-kċina.
It-tfal għamlulu sinjal b'rashom li kollox sew u bdew ipinġu u jiktbu ħsibijiet sbieħ fuq il-wallpaper bix-xena ta' briks.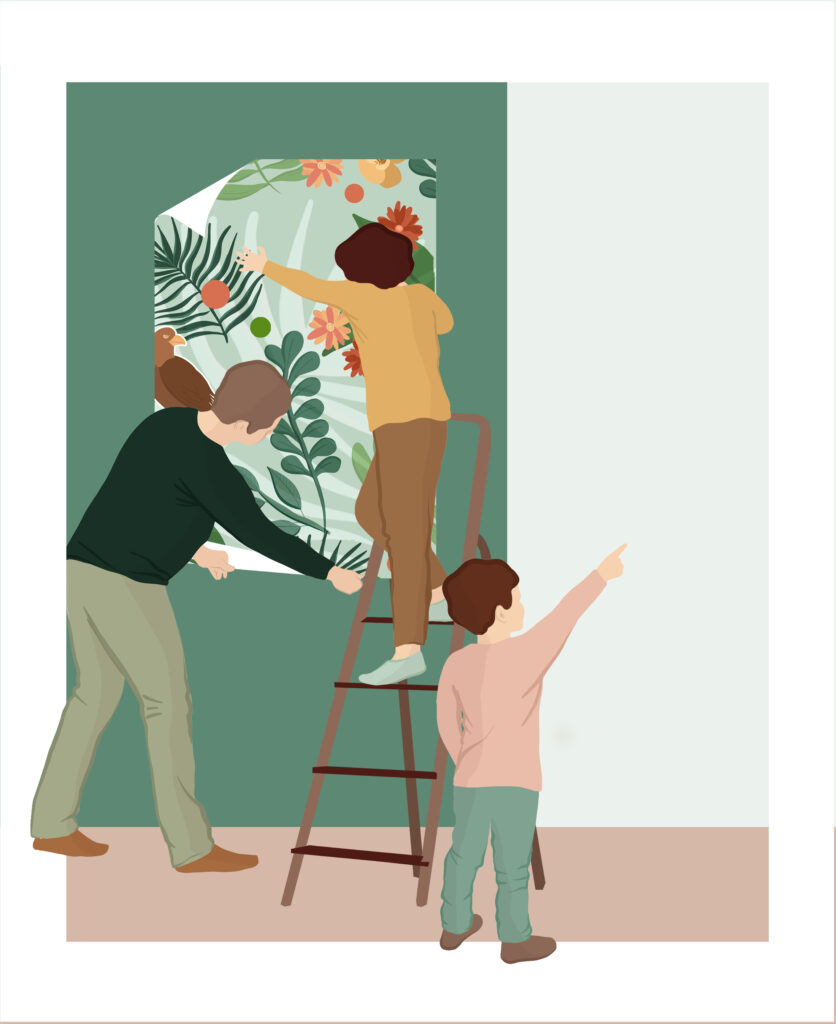 Manwel u ħuh iż-żgħir kitbu mhux biss ħsibijiet sbieħ imma kitbu dak li bdew iħossu ġewwa fihom f'forma ta' talba lil Alla. Pinġew ukoll emojis biex jesprimu lilhom infushom u kif bdew iħossuhom.
Meta l-papà mar lura fil-kamra tagħhom, baqa' impressjonat b'dak li esprimew uliedu fuq il-ħajt, kemm bil-kitba kif ukoll bit-tpinġija. Huwa faħħarhom ħafna u ħaddanhom miegħu.
Manwel, ferħan se jtir, qallu, "Ismagħni, pa, xi ktibt jien… O Alla, għinni nagħmel ħbieb ġodda fl-iskola l-ġdida u li ma jkun hemm ħadd li jaqbad miegħi. O Alla, jiddispjaċini meta ngħid kliem iebes u li jweġġa' lill-papà tiegħi. Aħfirli."
"U dawn it-tpinġijiet xi jfissru? staqsa l-papà.
Ħu Manwel iż-żgħir pront wieġbu, "Ara, pà, jien pinġejt lill-mamà għax qed inħoss ħafna n-nuqqas tal-mamà tiegħi. Nixtieq nitlob għaliha. U dawn huma bandli. Pinġejthom biex ngħid grazzi lill-ħbieb li kelli."
"Bravi," qalilhom il-papà.
Imbagħad il-papà ngħaqad magħhom ukoll u kiteb din it-talba, "O Alla, għin lil Manwel, lil ħuh iż-żgħir u lil tfal oħra bħalhom li għal raġuni jew oħra jkollhom iħallu d-dar tagħhom li jkunu draw jgħixu fiha. Agħtihom il-kuraġġ biex jibdew ħajja ġdida f'ambjent ġdid u għinhom jiffaċċjaw dak kollu li għad iridu jiltaqgħu miegħu."
Il-missier fakkarhom li meta jħossuhom imdejqin, inkwetati, ferħanin jew għajjenin, jistgħu jesprimu lilhom infushom bit-tpinġija fuq dik il-wallpaper u jitolbu lil Alla jgħinhom.
Eye-Catching Wallpaper
"I don't want to leave this house. Why are we leaving this house and moving again to another house in a different place? I want to stay here and continue to live here. I hate you! Go away!" shouted Manuel as he stamped his foot on the ground.
Nine-year-old Manuel started saying these harsh words to his father because he was feeling very angry and scared. This was the third time that he and his younger brother were leaving home to move to another home.
The first time was when they had gone to live with their grandmother for a long time since their mother was hospitalized for treatment due to serious illness.
The second time they moved into another house was after the death of their mother.
Now they were leaving home to move into a new house in the countryside near the fields and horse stables belonging to his father.
Manuel and his brother felt very upset because they began to worry that in the countryside they would not meet other children their age with whom to play, and neither would there be any of their favourite shops from where to buy ice cream or food.
They feared that in their new school, there will be those who do not understand them when at times they go to school without lunch, in dirty uniforms or when they feel extremely tired.
Moving to a different house meant that they had to let go of what they were accustomed to and adapt themselves again. They had to get used to living in a new environment surrounded by fields, get used to the new school system, and make new friends.
This experience was affecting their development and behaviour both at home and at school. Their father, who loved them very much, understood why they were feeling sad and angry. He started telling them that he was also going to miss his neighbours. He encouraged them and told them that they would be able to invite some new friends from their new school over to play with them in the fields and show them their horses.
To further cheer up his children, and knowing how creative and energetic they were, their dad also told them that to feel comfortable and safe in their new bedroom, they can decorate it as they wish.
The children's faces lit up with joy as they heard his words.
They asked him, "Dad, Dad, can we stick wallpaper with animal scenes, our favourite sports or a movie character?"
"Yes, of course you can," replied their father.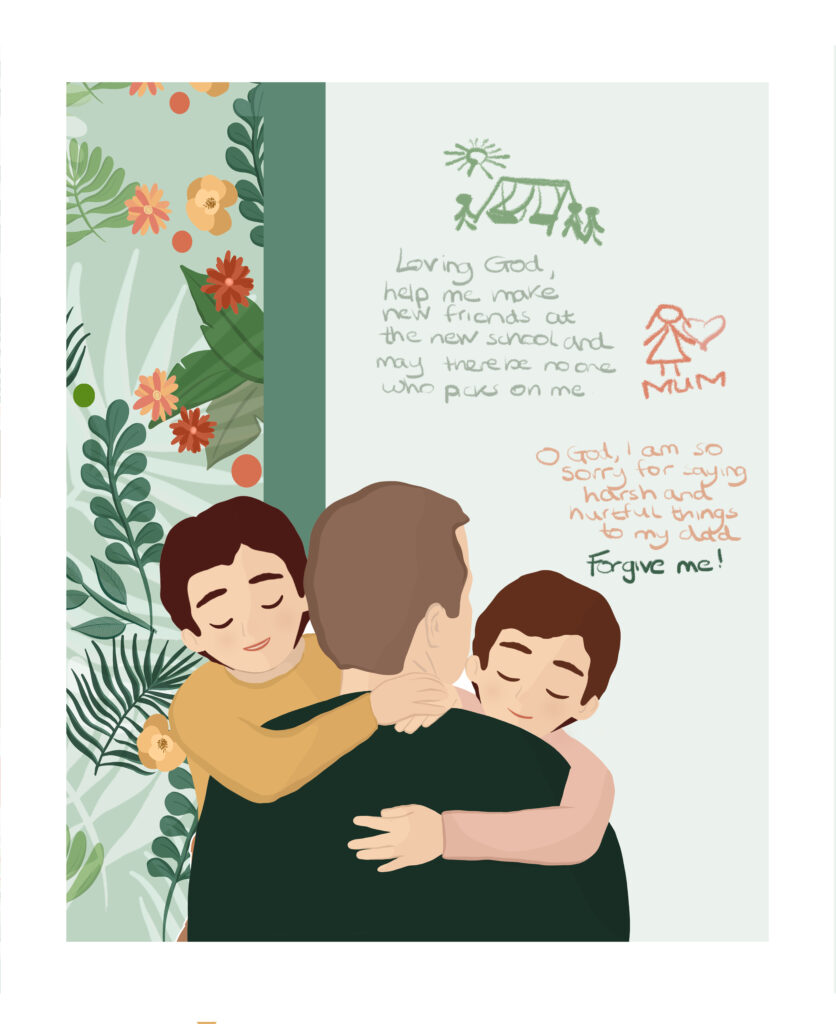 Seeing them so happy, he took them straight to the store to buy the wallpaper.
After buying it, they drove to the new house. When they arrived, the boys got out of the car, opened the front door of the house and ran to their bedroom.

They opened the roll of jungle animal wallpaper and with the help of their father, they stuck it on parts of the wall. Then they opened the brick wallpaper and stuck it onto the remaining wall.

When the room was finished with the decorated wallpaper, the father held up his two sons and gave them a big kiss and told them, "Look how beautiful your room is! Now, I want you to get your favourite colour marker and draw or write a lovely thought on the bricks wallpaper only. Okay?" Then he walked out of the room and into the kitchen.

Manuel and his younger brother not only wrote lovely thoughts but also their inner feelings in the form of a prayer to God. They also drew emojis to express themselves and their feelings.
When their father came back to their room, he was impressed with what his children had expressed in drawing and writing on the wallpaper. He praised them and hugged them.


Manuel was delighted and told his dad, "Dad, listen to what I wrote: Loving God, help me make new friends at the new school and may there be no one who picks on me. Oh God, I am sorry for saying harsh and hurtful words to my dad. Forgive me."
"And what do these drawings mean?" asked their dad.
Manuel's younger brother promptly replied, "Look, Dad, I drew my mother because I miss her a lot. I wish to pray for her. And these are swings. I drew them to say thank you to my other friends." "You are amazing," their dad told them.

Then he joined them and wrote this prayer, "Loving God, please help Manuel, his younger brother, and other children who for some reason have to move to another house. Give them the courage to start a new life in the new environment and help them face the uncertainty.


"Remind them that whenever they feel sad, worried, happy, or tired, they can express themselves through drawing on the bricks wallpaper and ask God to help them."
---
Resources related to this story
---