On Tuesday, 8th February 2022, the Spiritual Development in Schools team delivered training about 'What are Prayer Spaces and Values' with a group of forty educators from St Thomas More College Żejtun Primary B.
The training helped educators realize that with simple everyday objects and spaces, one can reflect and pray and continue to build meaningful relationships within the Self, Others, The World and God.
Introduction
Mr Edmond Pace, Headmaster of the school together with the staff, welcomed and introduced the SDS team in the foyer. He then divided the group of educators into two groups and indicated various classrooms which were to be used.
Experiential
Fr Reuben gave a brief introduction about today's training while Silvana, invited educators to proceed to the first activity; to experience the hands-on prayer spaces in two different rooms and alternate once they were ready. She indicated to enter in silence as this helps one to appreciate silence and reflect more.
Two rooms with ten prayer spaces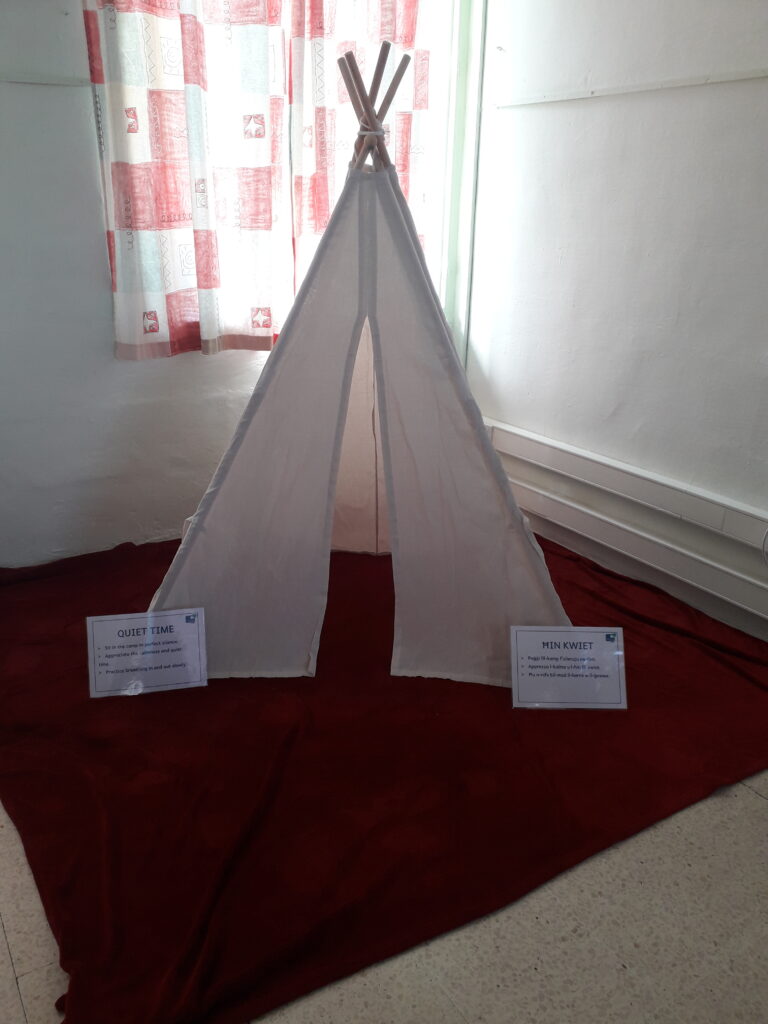 Two different rooms and distant from each other, were set up with five different prayer stations in each room. The two groups of educators had the chance to first go into one room and then go into the other so that by the end they would have experienced the ten prayer spaces in both rooms.
Fr Reuben Gauci and pastoral worker Svetlana Micallef, led one group of educators in a room with an adjacent stage hall on the following five prayer stations:
card box home and a whiteboard to write prayers for people who are homeless.
world wall to pray for people around the world,
a jar full of water and effervescent pills to ask for forgiveness on the fizzy forgiveness prayer station,
pieces of cardboard to ask and write big questions to God
small whiteboards to write sorry prayers.
Pastoral workers Kathleen Spiteri and Silvana Cardona welcomed and led the other group of educators in another room which was set up with a different set of five prayer stations:
a tent to appreciate silence
weightlifting plates to write down the worries
mirrors to appreciate oneself and thank God for a talent or a good quality
pipe cleaners to create a figure representing someone special and dear
a prayer wall to write or draw prayers
Soft background music enhanced the room for prayer and reflection.
Small group conversations
After experiencing prayer spaces, educators were allocated in three different classrooms. The SDS team distributed some questions to educators in each class for small group conversations. After some allocated time to discuss the questions, the educators shared about how they felt while doing prayer spaces, what struck them most, and how prayer spaces could be beneficial in their personal life and for others both at school and at home.
Feedback
Educators shared their feedback both personally and professionally which proved to be a necessary tool for a way forward.
"Prayer spaces enabled me to express myself about my interiority."
"Through my thoughts and reflections, I was able to express happiness, sorrows, mistakes and big life questions."
"We expressed ourselves about our exteriority about what is happening in the world around us, when we hear the news about war, the refugee's crisis, natural disasters and Covid-19."
"These moments and place were special to me as I felt safe to share my worries.
"Such moments are very rare nowadays as we always rush from one activity to another. Here, we had time to stop for a bit and reflect on a personal level."
"Reading other prayers and reflections gave me hope as I felt part of a community who is feeling or going through the same challenges as myself."
Prayer Spaces and their values
It was time to proceed with the session about What are prayer spaces.
Fr Reuben in person with a class of educators, while at the same time being connected with the other two classes of educators through MS teams.
The link between Prayer Spaces and the National Curriculum Framework
During this time, we saw that one of the aims of Prayer Spaces is holistic growth of the person and that they are directly and indirectly linked to all the five aspects of our identity as human beings:
Intellectual
Physical
Social
Moral
Spiritual
Since we are created as spiritual Human beings, we cannot separate this from our ongoing growth in our ongoing journey called life. This is what a lifelong journey is about. Prayer Spaces also give one the opportunity to continue to grow in relationships within oneself, with others, the world and God.
Educators were pleased to note that prayer spaces can be set up in any given space being a big hall or a classroom to a simple corner or even a cupboard. Several examples from other primary and secondary schools' setups were shared. These examples of prayer spaces in corridors, yards, gazebos, gardens, stage hall and tents were well received as they inspired teachers to try them out themselves.
Later, information and guidance about the Spiritual Development in Schools website www.sds.mt was given. One could see how to access the creative and interactive prayer activities, how to discover topics, the themes related to a prayer space, its aim, the equipment needed and the respective recommended ages. On the website, one can also register and download the instruction cards and material related to the prayer space.
Conclusion
We saw examples of what students prayed for during prayer spaces in schools.
Jesus, I hope my mum gets better from foot pain
Sorry for shouting with my mother
I don't want to be angry 4 ever
Through prayer spaces activities, children reflect and pray. But not only, as they are also encouraged to share this experience with other friends, parents/guardians, and siblings at home by telling them about what they did and how to create a small corner at home to pray with objects they find easily in the house
Spiritual Development in Schools would like to thank the headmaster Mr Edmond Pace, SMT and all educators who participated in the training.