"What is the connection between the environment and prayer?" asked a 13-year-old girl when they were invited to enter the prayer spaces room. They were encouraged to think: "Enter, and after you go through them, you tell me about their relationship and connection." They accepted the challenge and went together one by one. Got back with one answer: "Wow! Sure we understand the connection, and it's wonderful."

FEE (Foundation for Environmental Education) fest is organised by Ekoslola and was held between 20 and 22nd January 2020 at St George Preca Middle School, Blata l-Bajda. One of the various stands and workshops was the prayer spaces experience. The SDS team and other volunteers prepared and animated the prayer spaces to help the students of different ages and coming from the state, Chruch and independent schools to reflect and pray on issues related to sustainable development.

The Prayer stations were related to our relationships with the Creator and Creation, which includes other human beings and the millions of different creatures in our common Home. 
Dedicated educators from different schools who were experienced in the process of prayer spaces joined the team of volunteers to facilitate the prayer spaces for the students.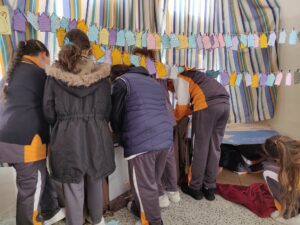 Cardboard home
The prayer spaces done for the FEE fest were: 
Appreciating nature

Saving life

Prayer for the world

Building blocks

Cardboard home

Relaxing waterħ

Forgiveness for greed

Quenching thirst
During this edition of FEE fest, 2 new prayer spaces were created. The prayer station titled 'Building blocks' encouraged the students to reflect on their choices to build a more sustainable society. The second one is called 'Saving life', and it helped the students to think about how are they contributing to decrease the use of plastic and to pray to God to strengthen their will to do so.
Every time prayer spaces are animated is an opportunity to meet the children and young people to express their inner self and desires while growing in the hope to move forward in the presence of God.