Can you imagine… 
Can you imagine every child and young person in your nation having the opportunity to pray or reflect in prayer spaces? We can. This is a bold prayer, a huge dream but one of my favourite verses in the Bible is Ephesians Ch 3 Verses 20-21. 'Now to him who is able to do immeasurably more than all we ask or imagine, according to his power that is at work within us, to him be the glory in the church and in Christ Jesus throughout all generations. Amen.' 
Can I encourage you to dream big for your village, town, city?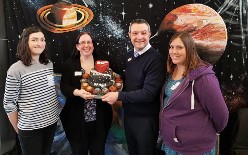 50th Birthday Celebration! 
This month there was much excitement in the small market town of Abingdon, Oxfordshire. The team ran their 50th prayer space! They celebrated in style presenting the Headteacher with a 50th birthday cake based on their latest prayer space theme
! In this one town, through local churches working together, thousands of young people have had the opportunity to reflect, pray or simply just 'be' in their schools. 
Welcome New Networkers
We've got over 40 volunteer networkers across the UK. This month we'd like to introduce our newest additions. Lizzie is the senior youth and children's adviser for Salisbury Diocese and Richard is a Rural Field Officer for Salisbury Diocese as well as a vicar of three small rural parishes in Dorset. Richard is our new networker for Dorset and Lizzie for Wiltshire. They both have a wealth of experience of working with churches to run prayer spaces. You can contact them through our network map.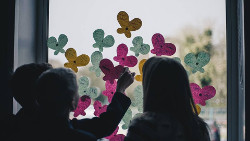 Prayer spaces in Ireland
Emma Thompson heads up our team in Ireland, here is her latest story. 'After running their second prayer space in their local primary school the Church Minster was invited into a conversation with local principals about how to address issues around mental health and social media. This conversation came as a result of what was written on the walls and floors of the prayer space and the principals knew they needed to do something, and wanted the Church at the centre of it all!'
With Thanks, 
Catherine Clayton