ŻAK Mosta
The 2002-2003 members of ŻAK Mosta, reflected on the feast of All Saints' Day using pumpkins. Through the pumpkin activity, they prayed to God to help them get closer to Him.
As they carved the top part of the pumpkin, they asked God to help them open their minds to learn beautiful things about Him. As they removed the fillings, they asked God to help them remove from them all their wrongdoings and asked for forgiveness. As they carved the eyes, they prayed to God to open their eyes to realize the beauty of this world and to see the needs of others.
Carving the nose, helped them to ask for forgiveness whenever they have a snobbish attitude and do not care for others. On carving the mouth they praised God with their words and said words of kindness to others.
Finally, they put a tea light candle inside it and asked God to help them spread God's light everywhere.
Adolescents Pembroke Parish
A group of adolescents prayed dearly to God as they cut eyes, nose, and mouth templates to create a beautiful prayer on their individual pumpkin template.
They also thought of ways to live like a saint at home, at school and in their neighbourhood.
In their heart, they promised God to do one good thing everyday even if it is hard to do.
What adolescents said:
"This activity helped me to name Saints that I am familiar with, and to pray to them".
"I enjoyed creating my personal Pumpkin Prayer on a template. I am going to put it on my bedside table".
"Can I have an extra pumpkin template to give it to my sister so she will write her prayers too?"
"The next time I see a pumpkin at the supermarket, I will think of my prayers now".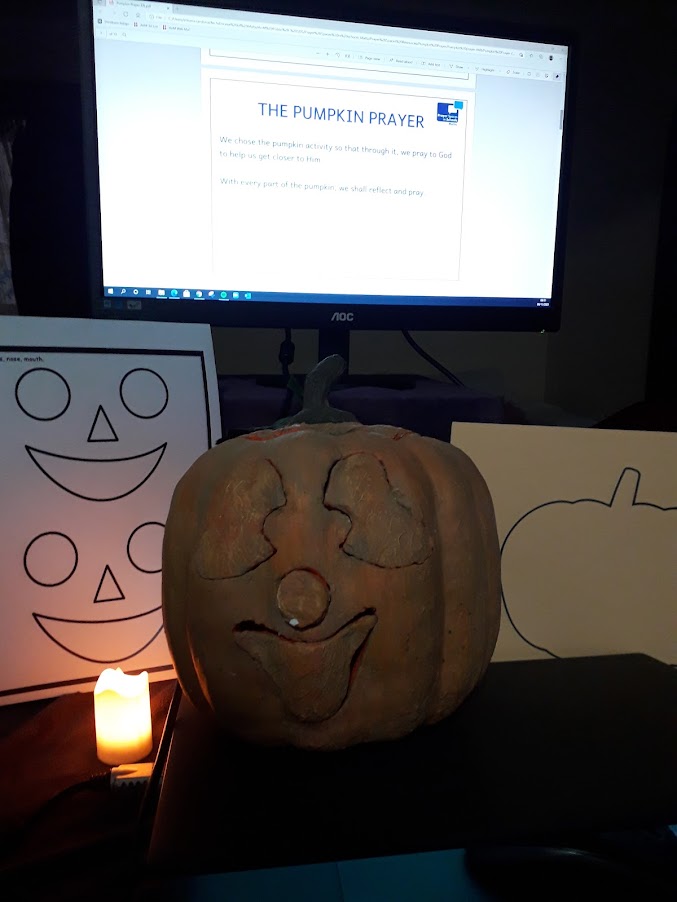 The pumpkin prayer can be found here :
| | | |
| --- | --- | --- |
| Through the pumpkin activity we will pray to God to help us get closer to Him. | | |