Dear Friends,  
"What is hope?" I asked. "How would you explain 'hope' to someone who didn't know the word?" "It's about not giving up," said one of the pupils. "It's like when you aspire for something." "You get it when you remember good times." "Some people get it from God."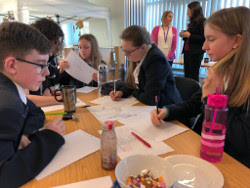 Hope in Durham
Pupils from five secondary schools came to our 'Creating Great Prayer Activities' workshop in Durham on Monday. By the end of the day, they'd created five new hope-themed prayer activities, which they'll be piloting around Easter. We'll get these new activities uploaded into our resource library shortly afterwards. 
Ireland Video
You'll also LOVE the brand new video that Emma Thompson and the Prayer Spaces in Schools Ireland team have produced. In the video, pupils and staff talk about their experiences, and Emma invites the viewers to join in … "we can transform the nation." You can watch it here.
Training
Over the coming months our team and Networkers will be hosting workshops and delivering training … in local churches, at Catholic and Anglican Diocese conferences, Spring Harvest, etc. If you'd like to join in, please check the website. And if you'd like to invite us to come to you, please get in touch.
With Thanks, 
Phil Togwell