Religious counsellors in the State, Church, and Independent schools met together for a training seminar about a more inclusive pastoral ministry in our schools.
In our school communities, c
hildren with autism are being helped to integrate and therefore the pastoral workers need to improve their knowledge, skills, and competencies about this aspect.
This meeting
 took place on the 15th January 2020 and was organised by the Pastoral care section within the Secretariat for Catholic Education and the Spiritual Development in schools Unit within the Vicariate for Evangelisation.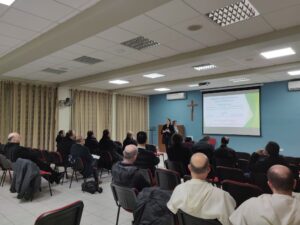 At the Archbishop's Seminary, Ms Jeanette  Galea Soler u Ms Claire McElhatton, two experts in the field, helped the participants to understand how to relate better with children with autism and together with Sr Alexandra Chircop, they also delved in the pastoral aspect, especially when coming to the participation in the mass. 
At the end of the seminar, fr Reuben Gauci collected the issues that priests experience in schools related to the multifaith experience as a preparation for future training opportunities.
The schools that participated in the seminar are:
ALP, Paola

Archbishop's Minor Seminary, Rabat

De la Salle College, Birgu

Giovanni Curmi Higher Secondary School, Naxxar

Maria Regina Middle School, Naxxar

Malta Visual & Performing Arts School, Hamrun

National Sports School, Pembroke

San Anton Schools, Mgarr

St Albert College, Valletta

St Claire Middle & Secondary School

St Benedict College Qrendi primary school

St Benedict Hellen Keller Education Centre

St Benedict College Middle School, Kirkop

St Benedict College Secondary School, Kirkop

St Elias College, St Venera

St Francis School, Cospicua

St Theresa College Birkirkara Primary school

St Theresa College Middle School, Birkirkara

St George Preca College Floriana primary school

St Thomas More Marsaskala primary schools A & B

St Thomas More Secondary school, St Lucia
The next training seminar is going to be on the 19th of May 2020 related to Prayer Spaces in Schools.