Ages
Early Years
Primary Years
Middle Years
Secondary Years
Post-Secondary Years
---
What is Adoration to Jesus in the Eucharist?
Adoration is a prayer-dialogue with Jesus in the Sacrament of the Eucharist; thus, everything said is to be a prayer. It is to be a dialogue between two hearts in Spirit and Truth, where the most essential is not what we are to say but to listen to Jesus to recognise his presence and accomplish it.
Preparation for the adoration
What prayers am I going to include during the adoration?
While we are preparing for this prayer, we must be aware to include these elements: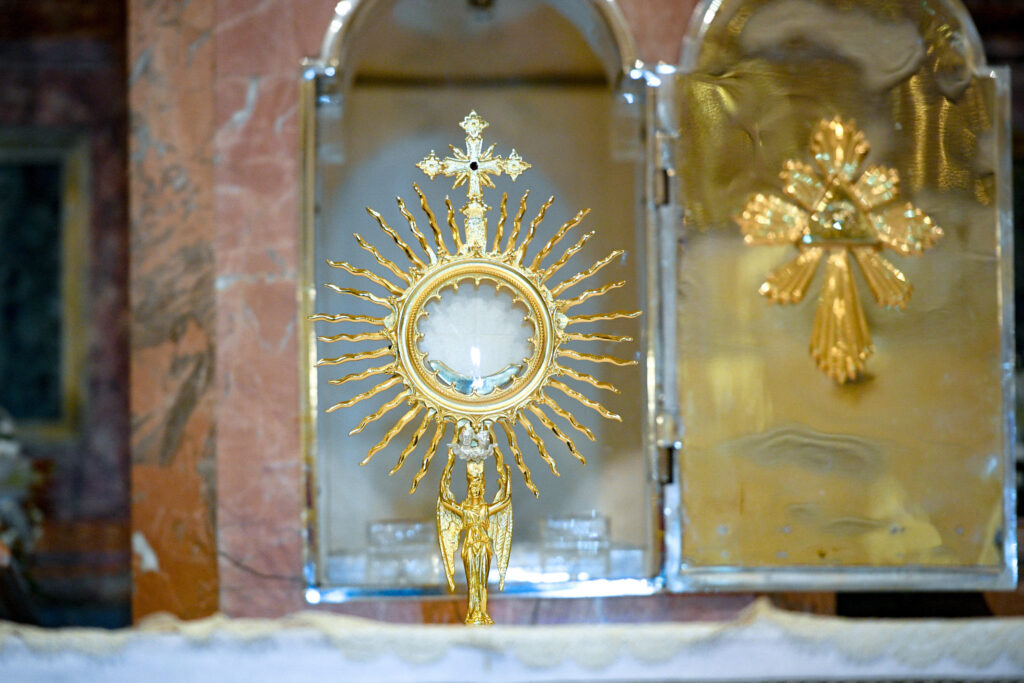 ---
What objects do we use during the Adoration?
During the preparation time for adoration, we also prepare the objects we shall use for our Adoration of Jesus in the Eucharist.
It would be pleasant to find a moment before the Adoration takes place to explain the objects one needs to organize an adoration to Jesus in the Eucharist and their meaning! Hereunder you may find some suggestions.
A Template Schedule for An Adoration to the Eucharist
Before the Adoration
Students imitate the adults. Educators must be role models of ethical behaviour during the Eucharistic adoration.
Invite the students to keep silent and to give all their attention to Jesus in the Eucharist. This is a precious time "between me and God only."
Together, you may pray the Jesus Prayer
During the Adoration Time
Cheerful and adoration singing
The priest, deacon or another person with permission places the monstrance on the table. Eucharistic hymns shall animate the exposition of the sacrament.
Five minutes of silence
Singing helps reflection.
An extract from the Gospel or Psalm (Example: John 6:51-58, Matthew 26:26-28, 1 Corinthians 11:23-26, Psalm 34:8, Luke 24: 30-31)
Five minutes of silence
If it is helpful, the students may participate in prayer activities to share their prayers in more practical ways.
Students are invited to write what they want to say to Jesus in their journals.
Joyful singing and conclusion
---
Prayers and reflections related to the Eucharist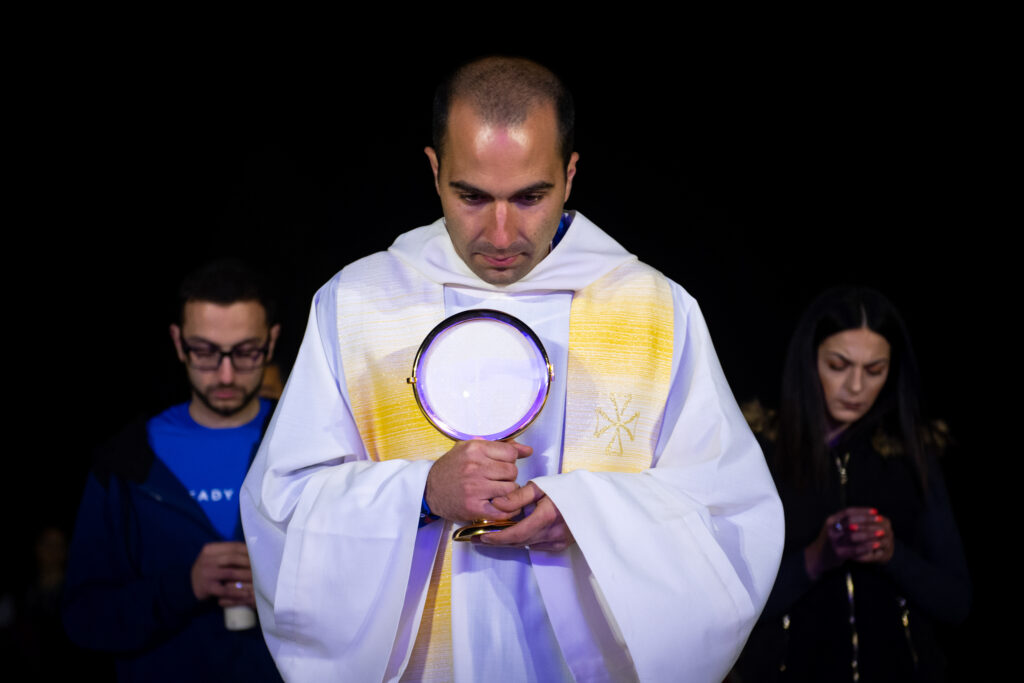 Related Resources
| | | |
| --- | --- | --- |
| In this prayer space one is encouraged to be one of the builders of a wall of faith by writing and sticking his prayer onto the wall. | | |
X'inhi l-adorazzjoni lil Ġesù Ewkaristija?
L-adorazzjoni hija talba-djalogu ma' Ġesù fis-Sagrament ta' l-Ewkaristija għalhekk kull ma jingħad irid ikun talba. Irid ikun djalogu bejn iż-żewġt'iqlub fl-Ispirtu u l-Verità, fejn l-iktar importanti mhux x'se ngħidu imma li nisimgħu lill-Mulej biex nagħrfu l-preżenza tiegħu u nwettquha.
Preparazzjoni qabel l-adorazzjoni
X'talb ser ninkludi waqt l-adorazzjoni?
Waqt li qed nippreparaw għal dal-mument ta' talb, għandna ninkludu dawn l-elementi:
---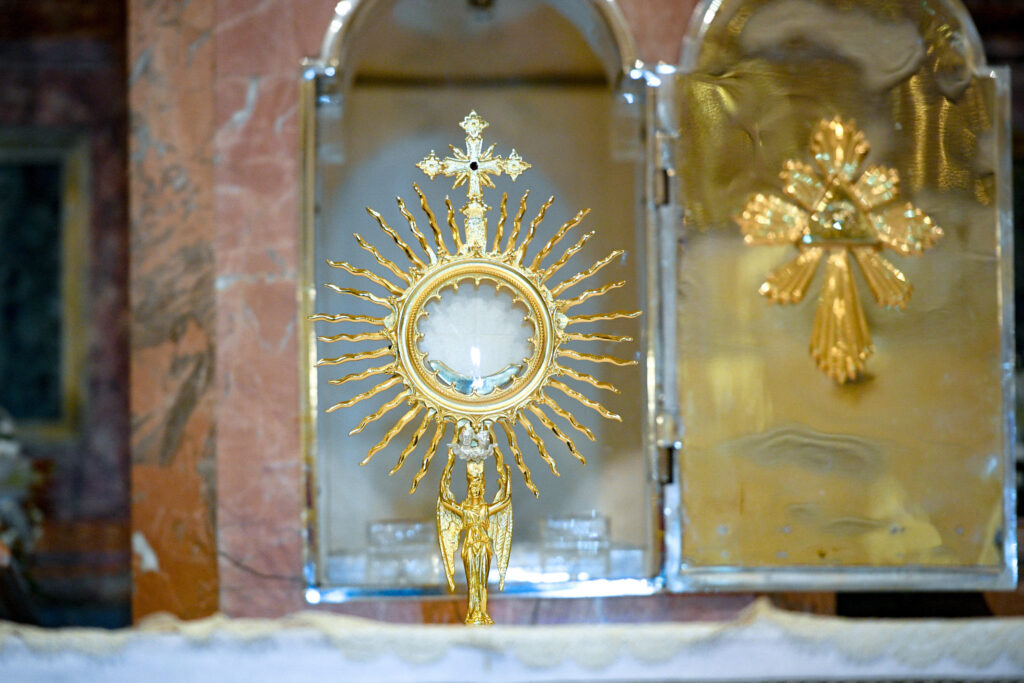 X'oġġetti għandi bżonn għall-adorazzjoni?
Fil-preparazzjoni tal-adorazzjoni, nħejju wkoll l-oġġetti li ser nużaw waqt l-Adorazzjoni lil Ġesù fl-Ewkaristija.
Hija ħaġa sabiħa li nsibu mument barra l-ħin tal-adorazzjoni biex nispjegaw lit-tfal l-oġġetti li għandna bżonn biex norganizzaw ħin ta' adorazzjoni lil Ġesù fl-Ewkaristija u x'inhi t-tifsira tagħhom! Hawn taħt għandek xi għajnuniet.
Eżempju ta' Adorazzjoni lil Ġesù Ewkaristija
Qabel l-adorazzjoni
L-istudenti ser jimitaw lill-adulti. L-edukaturi għandhom ikunu mudelli ta' kif wieħed għandu jġib ruħu waqt l-adorazzjoni.
Stieden lill-istudenti iżommu s-silenzju, u jitfgħu l-attenzjoni kollha fuq Ġesù Ewkaristija. Enfassizza li dan huwa ħin "bejni u bejn Alla biss."
Tistgħu titolbu flimkien il-Jesus Prayer
Waqt il-ħin tal-adorazzjoni
Kant ferrieħi u ta' adorazzjoni
Is-saċerdot jew id-djaknu jew xi persuna oħra li għandna l-permess tagħmel dan tpoġġi l-Ewkarisitja fl-ostensorju. Waqt li tesponi ikun hemm kant ta' adroazzjoni.
Ħames minuti silenzju
Kant ta' ġabra u li jgħin fir-riflessjoni
Silta mill-Evanġelju jew Salm (Eżempju: Ġwanni 6:51-58, Mattew 26:26-28, 1 Korintin 11:23-26, Salm 34:8, Luqa 24:30-31)
Ħames minuti silenzju
Jekk tkun ta' għajnuna, l-istudenti jistgħu jipparteċipaw f'attivitajiet ta' talb biex jressqu t-talb tagħhom aħjar.
L-istudenti jiġu mistiedna biex fuq il-Journal personali tagħhom, jiktbu dak li jixtiequ jgħidu lil Ġesù.
Kant ta' ferħ u konklużjoni
---
Talb u riflessjonijiet relatati mal-Ewkaristija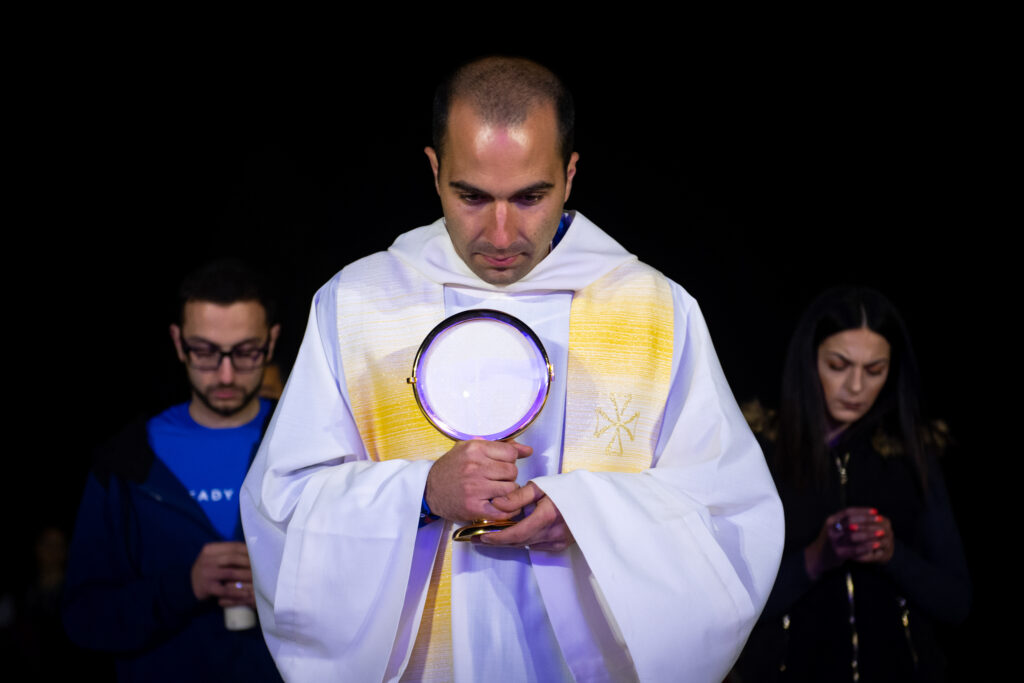 Riżorsi relatati
| | | |
| --- | --- | --- |
| In this prayer space one is encouraged to be one of the builders of a wall of faith by writing and sticking his prayer onto the wall. | | |
---