Ages
Primary Years
Middle Years
Secondary Years
Post-Secondary Years
Topics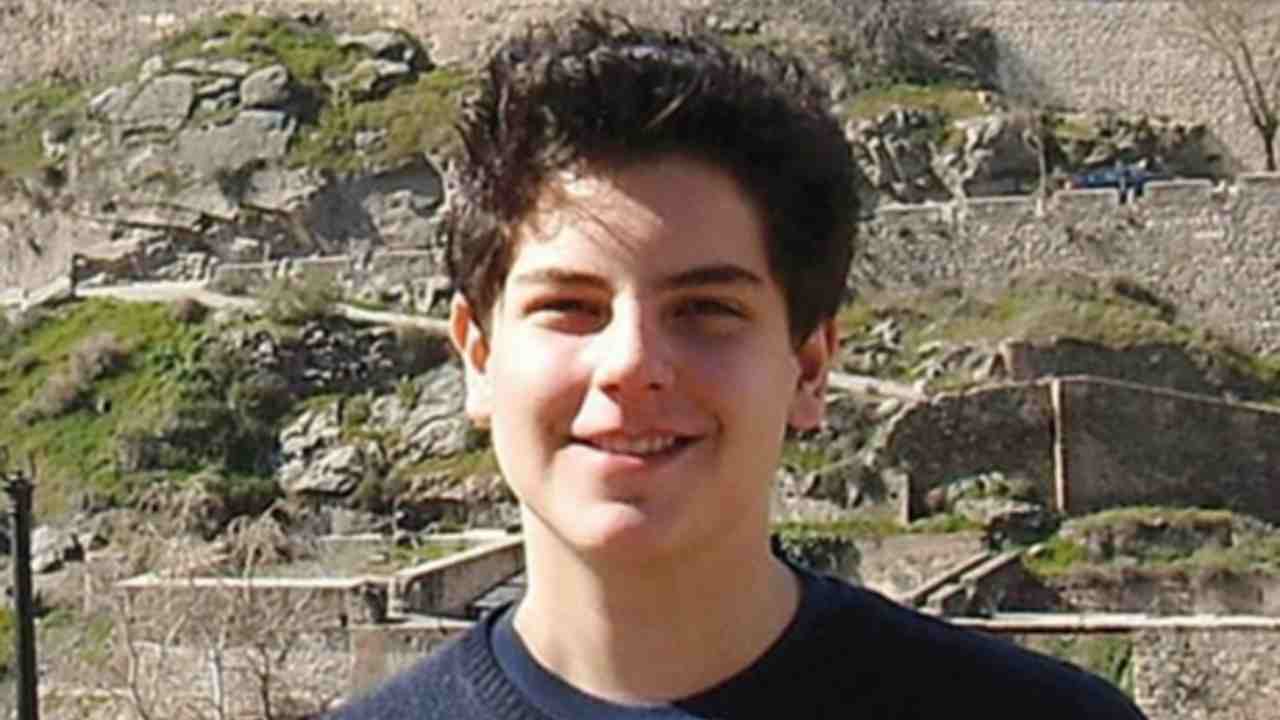 ---
We all know and love Blessed Carlo Acutis. Like him, there are other young people that it is good to get to know and imitate!
In these three years, since Blessed Carlo Acutis was declared Venerable, the Catholic world has been fascinated by the idea of a saint who liked Pokémon, played video games, and built a website. But he's not the only millennial on the path to canonization. These young men and women, too, lived with television, soccer, CDs, and even Google. Through their intercession may we learn to be saints in and through the modern world.
Servant of God Jean-Thierry Ebogo (1982-2006) was a Cameroonian seminarian who suffered from a terribly painful cancer but said. "I only want to be healed so that I can become a priest" Shortly after he entered the Discalced Carmelites, a soccer injury led to the discovery of a malignant tumour that forced the amputation of his right leg. By the next year, cancer had spread throughout his body. Brother Jean-Thierry was taken to Italy for treatment, but it was too late. He was given permission to make his vows early and did so in his hospital room, his mother by his side; he died only a month later, just shy of his 24th birthday.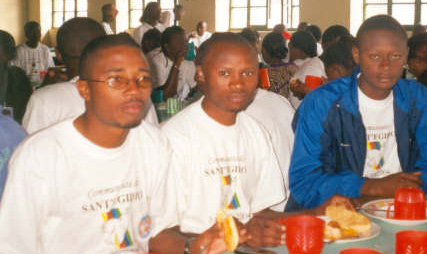 Servant of God Floribert Bwana Chui Bin Kositi (1981– 2007) was a young Congolese customs officer who resisted government corruption by refusing to take bribes. Floribert graduated with a degree in economics and became engaged, but at his job, he was pressured to ignore the contamination of certain food shipments and even offered a bribe of $3,000. Floribert refused, saying to a friend, " Money will soon vanish. But what about those people, if they had those products? What would happen to them? Do I live in Christ or not? Do I live for Christ or not? That's why I can't accept that money. It's better to die than to accept that money!" For his refusal, he was abducted, tortured, and murdered.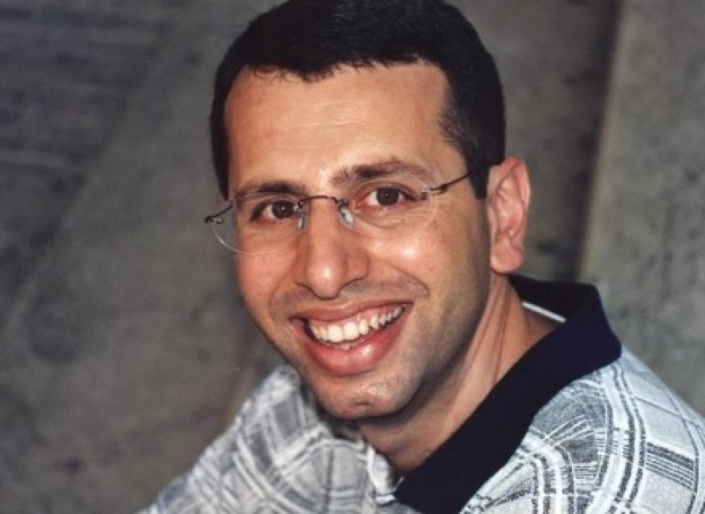 Servants of God Basman Yousef Daud (1982-2007) and Gassan Isam Bidawed (1984- 2007) were subdeacons in the Chaldean Catholic Church of Mosul, Iraq. They were travelling with Servant of God Ragheed Aziz Ganni (a Chaldean priest) and Servant of God Wahid Hanna Isho and his wife. The group was returning after Fr. Ganni had celebrated Sunday Mass, in defiance of terrorist threats. The car was pulled over and the group was ordered to convert to Islam. When they refused, the four men were murdered, leaving Isho's wife to tell the story.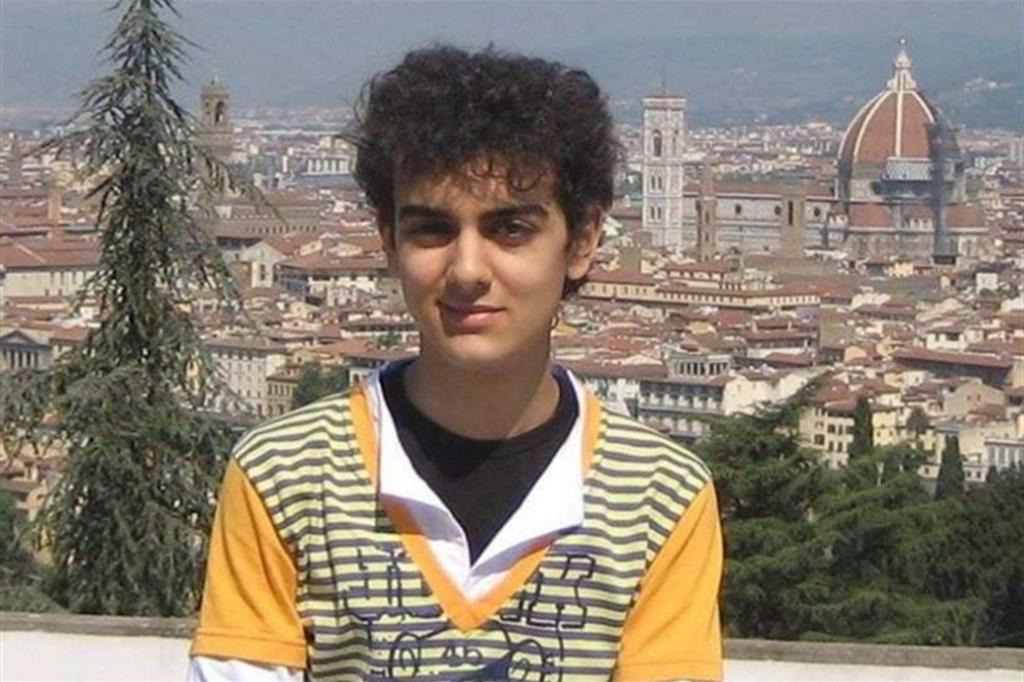 Servant of God Pierangelo Capuzzimati (1990-2008) was a serious and intelligent Italian boy who fought leukaemia for four years before dying at 17. Interpret the disease as an opportunity to meditate even more and to feel Jesus as a true friend. Pierangelo, who from the first moments of his illness saw in it a plan of God, abandoned himself totally to his "friend Jesus" generates many of those around him, starting with his parents. His statements on disease as a gift, on the limitation of the human mind to understand divine plans, the importance of belonging to the Church and common prayer and others that he pronounced to his father and mother in the last days of his life constituted the foundations of a path of continuous conversion that is directing the life of his parents after his birth in Heaven. During his illness, he was unable to attend school but still dead set on learning. Though he had a tutor for Greek and Latin, he was self-taught in all other subjects and continued to impress his teachers with the work he sent in up until his death.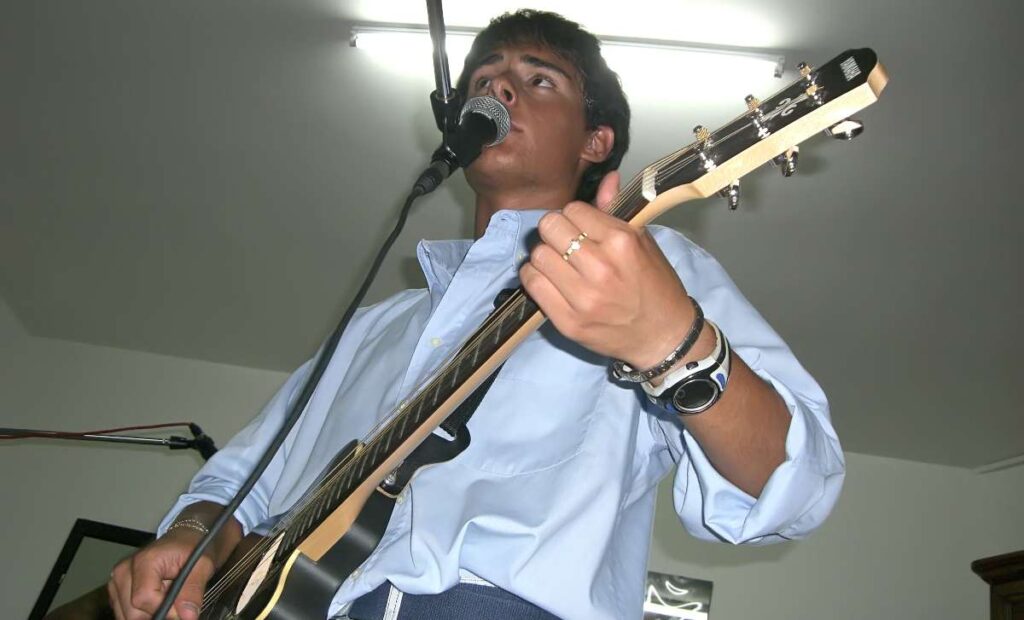 Venerable Matteo Farina (1990-2009) was a young athlete and musician who played the guitar and loved chemistry. He hoped to become an environmental engineer, but was diagnosed with brain cancer at 13 and died six years later. During his illness, he suffered with joy and continued to embrace Jesus as an ordinary teenager – between band practice and dates with his girlfriend.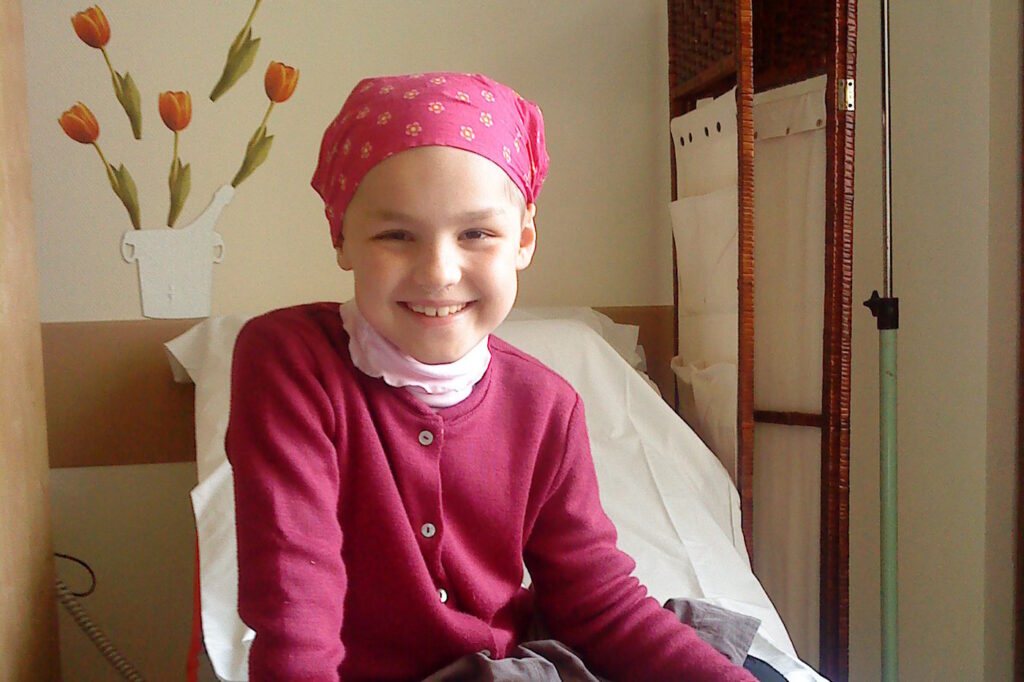 Servant of God Anne-Gabrielle Caron (2002-2010) was a shy but passionate little French girl, the daughter of a naval officer and a classics professor. At 7 she was diagnosed with Ewing's sarcoma; for a year and a half, she suffered with joy and generosity but also spoke honestly of her fear of dying. Still, she asked God to give her the suffering of the other children in the hospital; she died at eight and a half " I sometimes tell myself that the Good Lord gives me a lot: the heartache, the chemo, the taste when I am in pain. I would like to know why He chose me and not someone else. It's still a lot. But I'm willing to accept it. I love you, my God."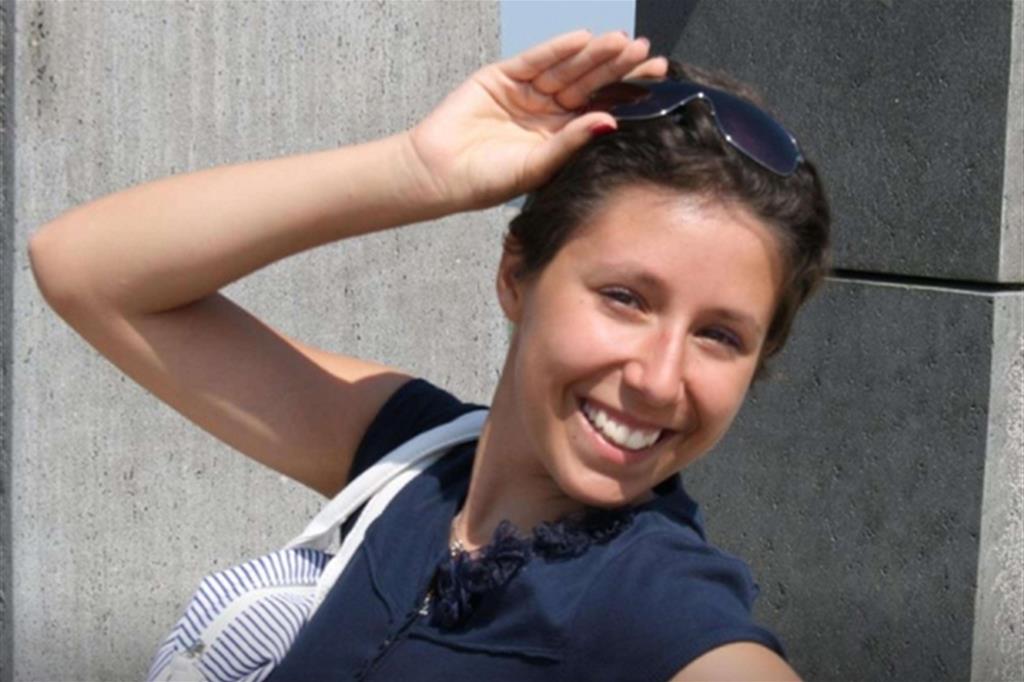 Servant of God Giulia Gabrieli (1997-2011) was a cheerful and exuberant Italian girl who loved shopping, travelling and listening to pop music. She has a devotion to Blessed Chiara Luce Badano, which gave her great consolation when she was diagnosed with cancer. At first, Giulia was understandably angry and depressed about her diagnosis, spending whole days crying. But soon she was given great joy in the knowledge that God was with her; her joyful suffering inspired many in the two years before her death.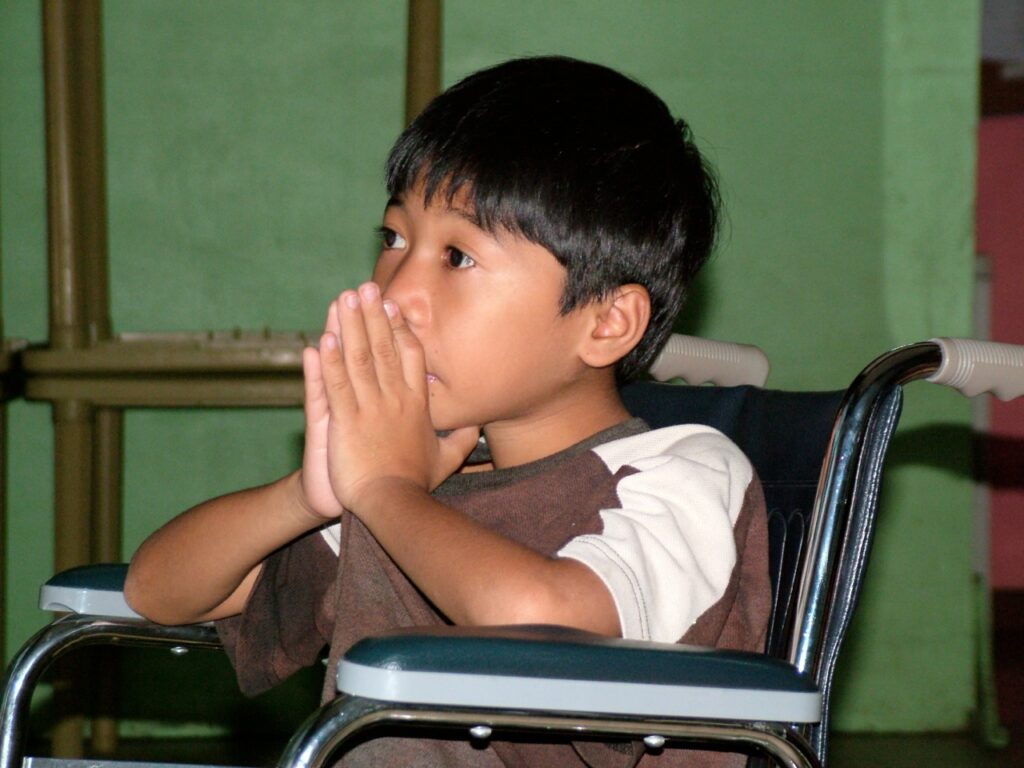 Servant of God Darwin Ramos (1994-2012) was a Filipino child born into devastating poverty. Darwin and his sister spent their days picking through the trash, but his muscles became weak when he was around 5 and he ultimately lost the ability to walk and was diagnosed with Duchenne muscular dystrophy. At that point, Darwin's father set him to begging (through Darwin was ashamed) until a group that worked with street children invited Darwin to come to live with them at a home for children with disabilities. There, Darwin's constant joy was evident to each person he met. He never lamented the disease that was slowly killing him, instead of calling it his mission and the way in which he would learn to love and trust God. He died at 17. His last words? "A huge thank you. I am very happy."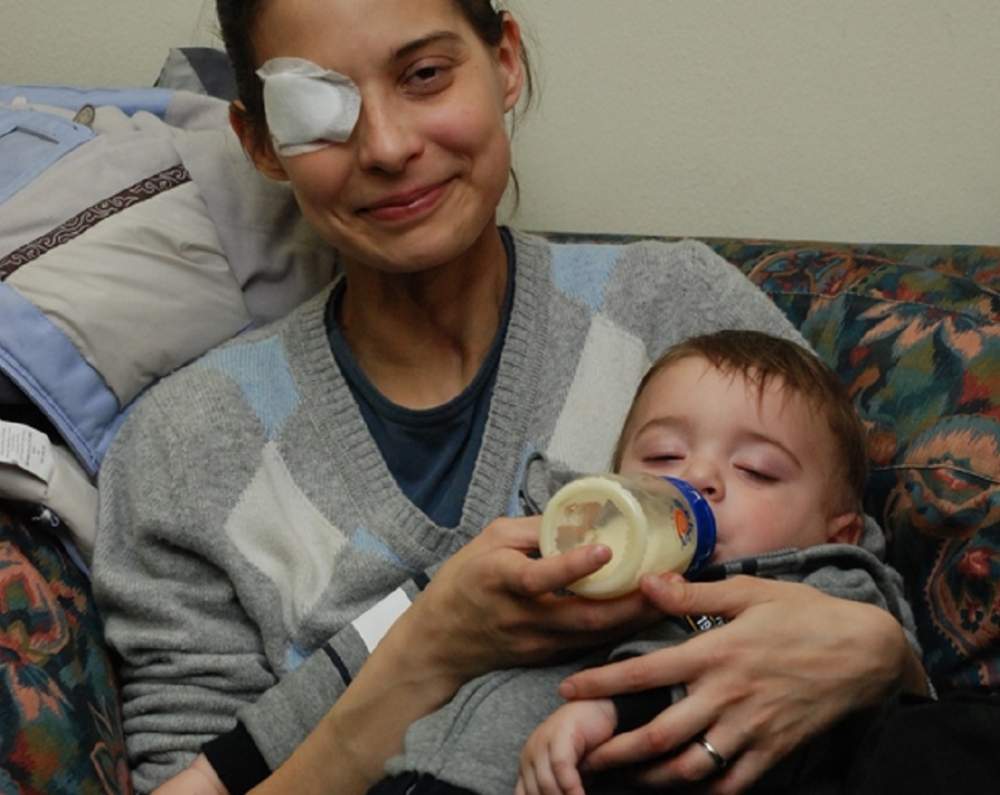 Servant of God Chiara Corbella Petrillo (1984-2012) was a young Italian wife and mother. After a tumultuous courtship, she and her husband found great peace through the sacrament of marriage. Early in their marriage, though, they lost two children, both within an hour of birth. Still, they rejoiced to discover they were pregnant with a third child and were even more delighted to discover that he was healthy. But while pregnant, Chiara was diagnosed with cancer that soon spread throughout her body. Dressed in her wedding gown, she died two weeks after giving birth to her son.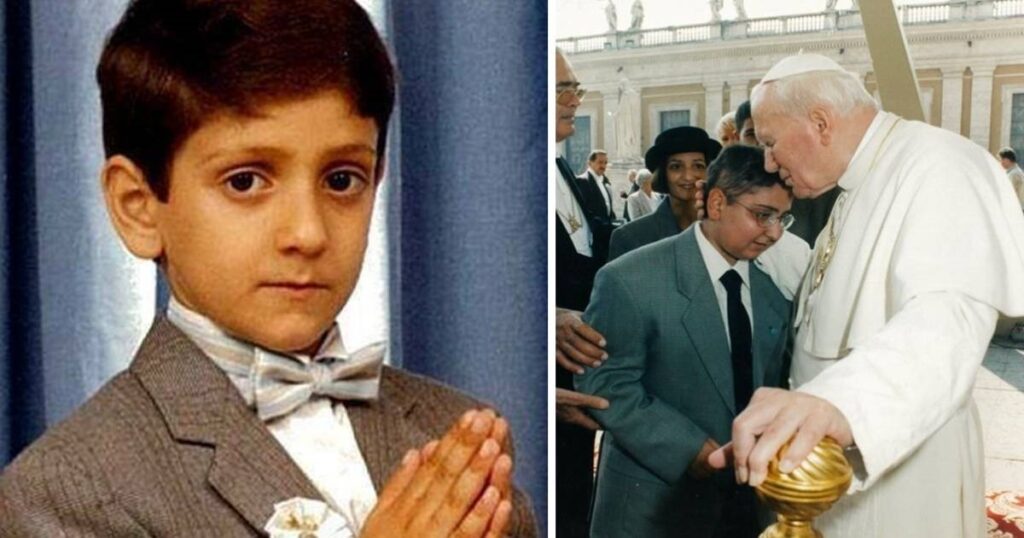 Gilbert Simiana was a holy Maltese teenager who died on the 27th February 1998, at the age of 16. For less than six years he was gripped by severe cancer. After his death, numerous reports of diverse extraordinary episodes in the lives of various people who prayed for recovery or help, witnessed their recovery through his intercession.
Gilbert was born in Rabat, Malta on the 1st of May 1982. He was brought up in a modest family. He was a lively, joyful and obedient child. He never shouted or answered back.
Once, his family members were noticing that Gilbert is frequently returning home from school hungry, and asking for food. When it continued to happen regularly, they decided to visit the school administration to check what was happening. They found out that Gilbert was giving his lunch to a boy who for some reason used to go to school without lunch.
On another day, Gilbert noticed that a particular boy was lonely and not playing with his classmates during break time. He approached him and asked him why he stays always on his own. The boy replied that he was still recovering from a major operation. He underwent kidney transplantation from his mother since his kidneys were all defective. The boy, therefore, was still convalescent and was not able to run or move around easily. When Gilbert heard his story, he encouraged him and offered his accompaniment during his convalescence so the boy never feel lonely.
When Gilbert used to hear someone swearing or talking badly, he corrected the individual in a nice way.
Gilbert never missed catechism (M.U.S.E.U.M.) classes, even towards the end of his illness, when he was dragging and limping. He never wined. Gilbert used to say that when he grows up, he would like to become a member of the Society of Christian Doctrine and go on missionary trips.
On the 30th of April 1992, when Gilbert was 10 he experienced a severe headache. The boy was taken for a check-up by a professor who sent him for a CT scan urgently. The results of the CT scan indicated that he was suffering from a brain tumour and in need of an operation in the United Kingdom.
This was shocking news for his family, but Gilbert remained calm. Later on, he confessed to his sister Loraine " Lor, how happy am I that God had chosen me to show him my love through this way!" He used to say to everyone that "God had preferred me!"
Gilbert made a wish – to build a villa near Jesus with his determination that through this suffering and all that it entails, he will become a soldier of Christ, and fight for Christ by being faithful. His Excellence Archbishop Charles Scicluna pointed out that what struck him in Gilbert is that "he lived an ordinary life and specifically when the Lord chose him for this special vocation, of living throughout his illness in communion with the crucified and the risen Christ."
Simiana used to put on, with a lot of endearing and pride, the 'Verbum Dei' badge on his chest. The badge was so dear to him. When he was recovering in hospital and thus wearing his pyjamas, he would instantly wear the 'Verbum Dei' badge.
Every day Gilbert used to pray the Arloġġ Mużewmin. This is a round-the-clock prayer book, which included a prayer for every hour, written by Saint George Preca. Daily, he used to recite fifteen rosary mysteries, as he loved Our Lady like a son loves his mother. Every day even whilst being treated in the United Kingdom, Gilbert used to read a text from the bible.
Once, according to the MUSEUM prefect, Mario Muscat, Gilbert asked him for advice; on if it was good to go for an outing to Paceville with his school friends as they had encouraged him and he would have liked to join them. The prefect asked him if he had taken permission from his parents and Gilbert replied that they did not object.
The prefect said that for once it was ok for Gilbert to join his school friends but not on a regular basis if he would like to be part of the Society of Christian Doctrine. Muscat suggested to him that it was wiser not to engage in such habits because it does not help to go forward in his vocation. Gilbert returned home, and two days later informed Mario he decided not to go to Paceville.
In August 1996, Gilbert went to Lourdes with his father. This trip has instilled great excitement in him. In front of the cave of Lourdes, Gilbert prayed for a saintly death without sin and from improvement in his health if it is the will of God and the Virgin Mary. He told his sister that his greatest wish was that all his family would one day be united in heaven.
In March 1995, Pope John Paul II appointed the Spanish Mons Josè Sebastian Laboa as the Nuncio for Malta. One day, Laboa met a group of children walking along the road. He asked them what Christmas meant for them. Gilbert gave a theological answer. Laboa was very impressed with the boy. The nun who used to take care of Mons Laboa's told him that that boy was seriously ill.
Nuncio Laboa went to visit Gilbert in his home. During this meeting, Mons Laboa and Gilbert were like the shepherd with the lamb who was ill and suffering. From that moment the Nuncio continued to meet Gilbert regularly, especially during his walks and training when he passed close to the boy's home.
Gilbert's father would confess that the Nuncio used to go unexpectedly to their home to visit the child. Once he entered home, he excused himself for disturbing and prudently urged them to have a talk with Gilbert. These meetings used to take an hour or more in an outside room.
Mons Laboa used to present him with religious things such as rosary beads or holy images of saints. Once during one of these visits, the Nuncio admitted to Gilbert that he was going on a trip to visit Pope John Paul II. He asked Gilbert what he wished and hoped. Without haste, Gilbert replied that he would like him to tell the Pope, that he was dedicating his sufferings to the success of his Papal, pastoral visits to various countries. Later on, during another visit to Gilbert, Mons Laboa told him that he spoke to the Pope about him and that Pope John Paul II wanted to meet Gilbert.
Mons Laboa sorted out everything for this meeting and paid everything from his personal money, instead from the Nuncio travelling fund. Gilbert and his family met Pope John Paul II, whom Gilbert loved so much on the 9th of September 1997. During this papal visit, Gilbert was very excited and felt so happy. When the Pope blessed him with the kiss of peace, he could not express the joy he felt inside him.
Gilbert told the Pope that he was offering his sufferings for the benefit of the papal pastoral voyages, for the good to emerge. According to his sister who was present, the pope told Gilbert that he was very special to Jesus and chosen by Jesus.
It was the last day of Gilbert's life. The last time his family communicated with him was on Wednesday 25th February 1998. The boy has lost sight of his eyes. Dr Michael Cassar, the family doctor verified that Gilbert never wined or lamented from his illness. He also pointed out that he had heard from the patients close to Gilbert that he used to say "As Jesus suffered, I also want to suffer and offer my sufferings for the needs of the Pope."
Gilbert was half conscious but he was listening to everything. His family was near him reciting the rosary. The news that the holy teenager was dying spread across Rabat and reached the Nuncio. As soon as he heard the news about Gilbert, he went hurriedly to the hospital. No one knows what was said between the Nuncio and Gilbert in that last meeting of theirs. The only thing we know is that when the meeting ended the Nuncio came out of the room and told Gilbert's sister to keep him updated and to send for him if they needed anything.
Gilbert was surrounded by family members and in fact, he died in Kevin's arms, at that time Gilbert's sister's fiancé. Nowadays he is her husband. Gilbert died on Friday 27 February 1998 in St Luke's hospital at the age of 16 years minus 3 months. His family members recall that when he died, Gilbert's face was smiling a smile of peace that spread peace to all who saw him.
They dressed him up and put on his chest the MUSEUM badge according to his expressed wish. This 'Verbum Dei,' had never been removed from him. During his operations, when he could not wear it, he used to hang it on his bed, a fact that impressed his foreign doctors. The Nuncio made all the preparations for the boy's funeral and took care of Gilbert's body until it was buried.
Gilbert's funeral took place at St Paul's parish church in Rabat. The church was full of people. Even the church parvis was full. Those who attended would dare say that there were more people than during the parish feast day. The funeral mass was led by Mons Laboa whose wish before Gilbert's death was to take care and handle everything from the time of the boy's death onwards.
Laboa was all time seen moved. He has lost a friend who was young in age but mature in faith. He felt honoured that he was the one who organised the meeting of Gilbert with the Pope and gave his last respects. Laboa made his speech and he declared Gilbert as the "Domenico Savio of Malta", saying, "a teenager who even in his death, his presence aroused a lot of good as everyone could clearly see."
After Gilbert's death, his holy pictures of the saints he had, were distributed in homes. It has been witnessed that there were various cases of healing through his intercession. His family received numerous letters relating stories of healing and conversions, together with monetary tokens for a thanksgiving mass.
Mons. Laboa had no doubts that Gilbert is a saint. It was so clear to him that during a meal in Rome on the 27th of January 2000, on the day of the conclusions about the sainthood of Fr George Preca, he exclaimed, "Now – that the cause of Fr George came to an end – there is this boy from Rabat."
Gilbert was buried at the Rabat cemetery for two years and three months. After the year 2000, his body was taken to the Ħad-Dingli cemetery where he still is laid to rest. When his casket was removed, it was amazing that the state of his corps was still intact and the present doctor was in awe how after two years and three months he was still covered with skin, even though he was suffering from a severe illness and the chemical therapies he endured before he left this earth.
What is Gilbert's message for all of us, especially for the youths of Malta and Gozo? The quality of life is not calculated by the longevity of days and from success in this world, but by how much one recognizes giving him or herself to God and to the people in love, even if this means rejection and suffering.
For this is that we are called for sainthood, to be perfect in love as Saint Paul teaches us, 'God has chosen us from the beginning of creation to be saints and without sin in front of him with love.' Words can be of challenge to us and also of courage. May the example of Gilbert Simiana encourages us all for a better quality of life, and we search our way to sainthood, every one according to his particular calling.
(Information was taken from the book "God has preferred me" by Jane Camilleri Haber)
Most of this post was taken from Meg Hunter- Kilmer who published the article on 05/15/21
Millenials fi triqthom għall-Qdusija
Aħna lkoll nħobbu lill-Beatu Carlo Acutis. Iżda hemm ħafna nies oħra bħalu li tajjeb li nsiru nafuhom u nimitawhom! F'dawn it-tlett snin mindu Carlo Acutis sar Beatu, id-dinja Kattolika giet affaxxinata b'dak li kien iħobb jagħmel, bħal jilgħab bil-Pokemon, u l-video games, logħob digitali kif ukoll bena website. Carlo mhuwiex l-uniku wieħed li qiegħed fit-triq biex jkun ikkanonizzat. Dawn iż-żgħażagħ li se niltaqgħu ,magħhom, nisa wkoll għexu bit-TV, soccer, CDs u anke Google. Bl-interċessjoni tagħhom jalla aħna wkoll nitgħallmu nkunu qaddisin fid-dinja moderna.
Is-Serv ta' Alla Jean-Thierry Ebogo (1982-2006) kien seminarista mil-Cameroon. Jean-Thierry kien isofri min kanċer u kien ikun muġugħ ħafna. Darba qal, "Nixtieq li jgħaddili biex nsir sacerdot." Ftit wara li daħal mal-patrijiet Karmelitani Tereżjani. Incident waqt logħba futbol wasslu biex jibda jbati min tumur infettiv u kellhom ineħħulu siequ l-leminija. Sa sena wara l-cancer inxtered ma ġismu kollu. Brother Jean-Thierry kien meħud l-Italja għat-trattament, iżda kien tard wisq. Tawh il-permess li jieħu l-voti tiegħu kmieni. Iċ-ċerimonja saret f'kamra ġo l-Isptar fil-preżenza t'Ommu. Huwa miet xahar wara, f'għeluq sninu meta għalaq erba' u għoxrin sena.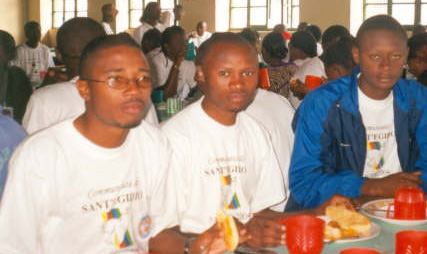 Is-serv ta' Alla Floribert Bwana Chui Bin Kositi (1981-2007) kien mill-Congo u kien jaħdem bħala uffiċjal fid-dwana. Irreżista il korruzzjoni tal-gvern billi irrifjuta li jaċċetta it-tixħim. Floribert gradwa b'degree fl-ekonomija u kien ingaggjat. Fix-xogħol tiegħu kien magħfus biex jinjora il-kontaminazzjoni ta' ċertu ikel mibgħut fil-merkanziji ta' vapuri u anke kien offrewlu it-tixħim ta $3,000 jekk jagħmel dan. Iżda Floribert irrifjuta, u qal lil ħabibu "il-flus malajr jisparixxu, imma x'se jigri min-nies li jieklu dawk il-prodotti? X'kien se jiġrilhom? Jien qiegħed ngħix f'Ġesù jew le? Jien qiegħed ngħix għal Ġesù jew le? Huwa għalhekk li jien ma nistax naċċetta dawk il-flus. Huwa aħjar li mmut milli li naċċetta dawk il-flus! Għax irrifjuta kien ittorturat u maqtul.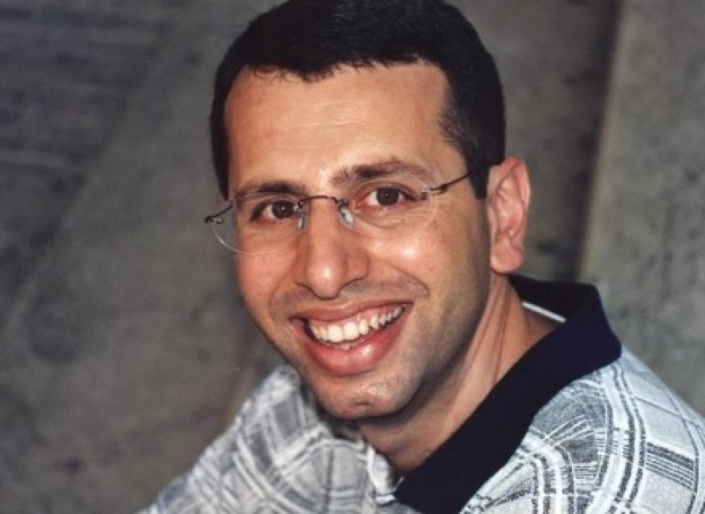 Is-Servi ta'Alla Basman Yousef Daud (1982-2007) u Gassan Isam Bidawed (1984-2007) kienu djakni fil knisja kattolika ta' 'Chaldean' f'Mosul, l-Iraq. Darba kienu qed jivvjaggaw mas-serv ta' Alla Ragheed Aziz Ganni (saċerdot min Chaldean), s-serv ta' Alla Wahid Hanna Isho u l-mara tiegħu. Il-grupp kien qed jirritorna wara li Dun Ganni kien iccelebra l-quddiesa tal-Ħadd, bħala sfida lil gruppi terroristi. Qalbulhom il-karrozza u l-grupp kien mġiegħel jikkonverti għal Islam. Meta irrifjutaw , l-erbgħa irġiel kienu maqtula. Lil mara ta' Isho żammewha biex tgħid l-istorja u tagħti xhieda ta' kif ġraw l-affarijiet.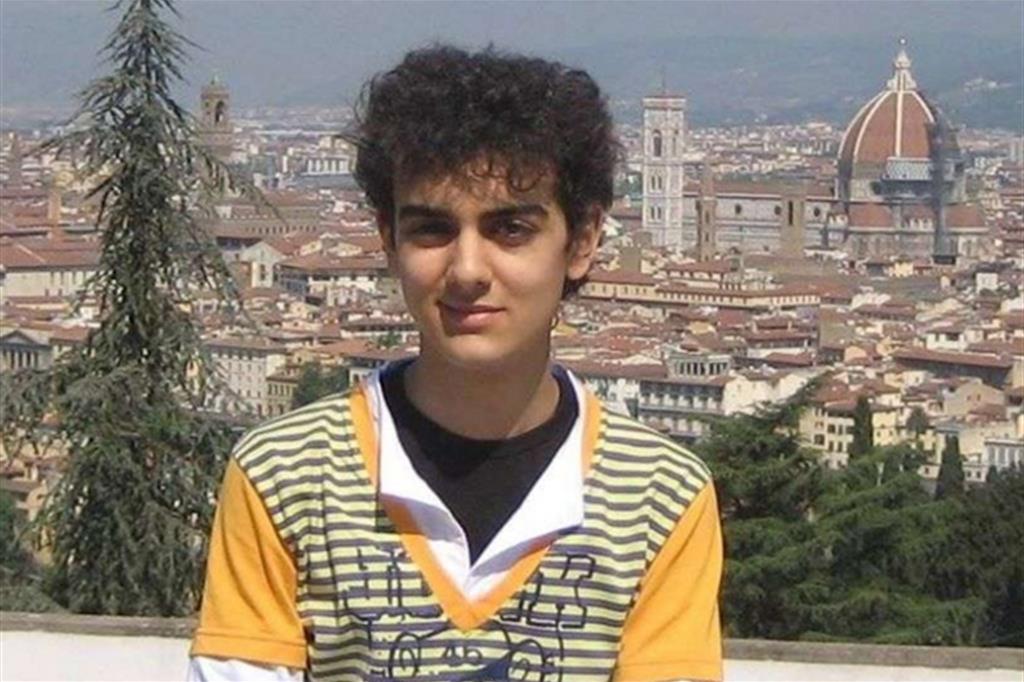 Is-Serv ta' Alla Pierangelo Capuzzimati (1990-2008) kien Taljan. Kien bniedem intelligenti li ġġieled il-Leukemia għal erba' snin u miet meta kellu 17-il sena. Huwa interpreta l-marda tiegħu bħala opportunita' biex jimmedita dejjem aktar u jgħożż lil Ġesù bħala ħabib ta veru. Pierangelo, li mill-ewwel mumenti aċċetta l-marda tiegħu bħala l-pjan ta' Alla beda jitgħallem jabbanduna lilu nnifsu totalment f'idejn "Il-ħabib tiegħu Ġesù." Kien jispira lil dawk ta' madwaru, ibda mil-ġenituri tiegħu, bid-dikjarazzjonijiet tiegħu fuq il-marda bħala rigal, fil-limitazzjoni tal-moħħ uman biex wieħed jifhem il-pjanijiet ta' Alla, l'importanza li nappartjenu mal-knisja talb komuni, u oħrajn li hu qal lil missieru u lil ommu fl'aħħar ġranet ta' ħajtu, ġab mixja ta konverzazzjoni kontinwa li qed tidderigi ħajjet l-ġenituri tiegħu wara t-twelid tiegħu fil-ġenna. Matul il-marda, ma kienx jista jattendi l-iskola imma xorta ried jibqa' jitgħallem. Għalkemm kellu għalliema fil-Grieg u l-Latin, kien jitgħallem waħdu is-suġġetti l-oħra u kompla jimpressjona lil għalliema tiegħu biex xogħol li kien jibgħat sal ġurnata tal-mewt tiegħu.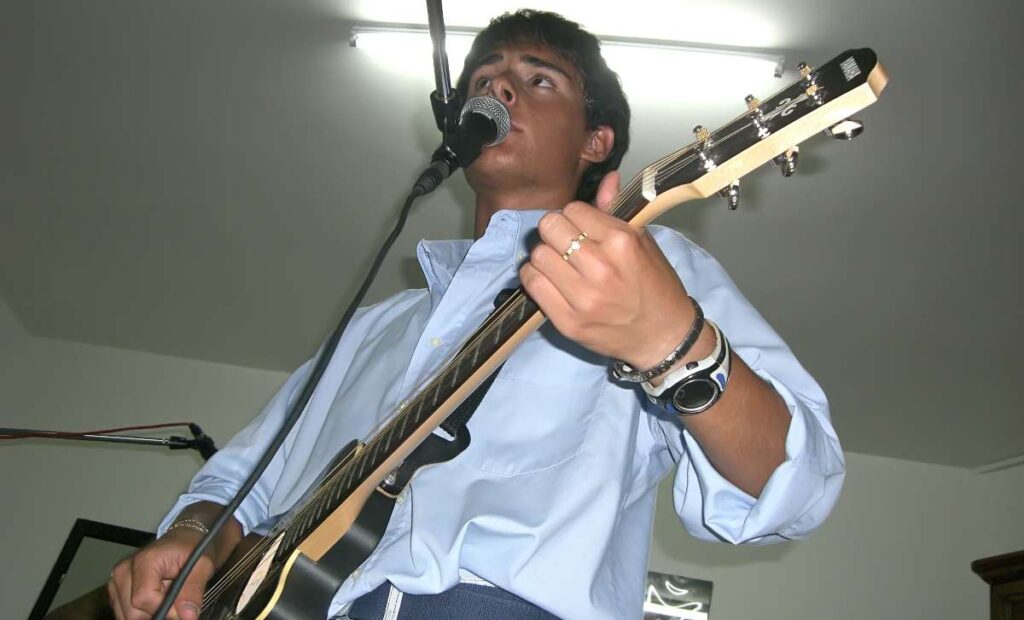 Il-venerabbli Matteo Farina (1990-2009) kien atleta żgħir u mużiċista. Kien idoqq il-kitarra u kien jħobb il-kimika. Hu kien jittama li jsir ingineer ambjentali, iżda sabulu kanċer f'moħħu u miet sitt snin wara. Soffra l-marda tiegħu b'kuntentizza, u kompla jgħannaq lil Ġesù bħal żagħżugħ ordinarju – fil-prattika mużikali fil-banda u waqt il-ħrug mas-sieħba tiegħu.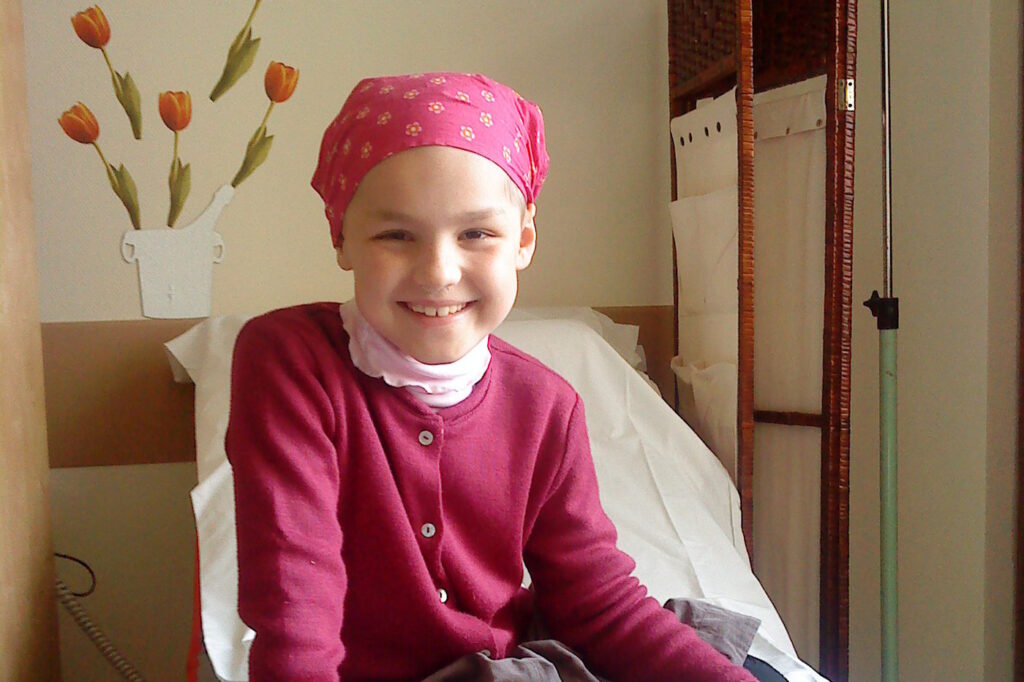 Is-Serva ta' Alla Anne-Gabrielle Caron (2002-2010) kienet tifla Franciża ħelwa u mistħija. Kienet it-tifla ta' uffiċċjal navali u professur tal–klassiċi. Ta' seba' snin irriżulta li għandha Ewing's Sarcoma; u għal xi sena u nofs sofriet din il-marda b'ferħ u ġenerosita, imma kienet wkoll titkellem honestament fuq il-biza' tagħha li tmut. Xorta waħda kienet titlob lil Alla biex jgħatiha is-sofferenzi tat-tfal l-oħra fl-isptar. Mietet ta' tmien snin u nofs.
" Xi kultant ngħid miegħi nnifsi li l-Mulej ħanin jagħtini ħafna; il-weġgħa fil-qalb, il-chemo, it-togħma ħażina ta meta tkun miġuħ ħafna. Nixtieq inkun naf il-għala Ġesù għażel lili u mhux xi ħadd ieħor. Xorta ħafna imma jiena determinata li naċċetta t-tbatija tiegħi. Inħobbok Alla tiegħi"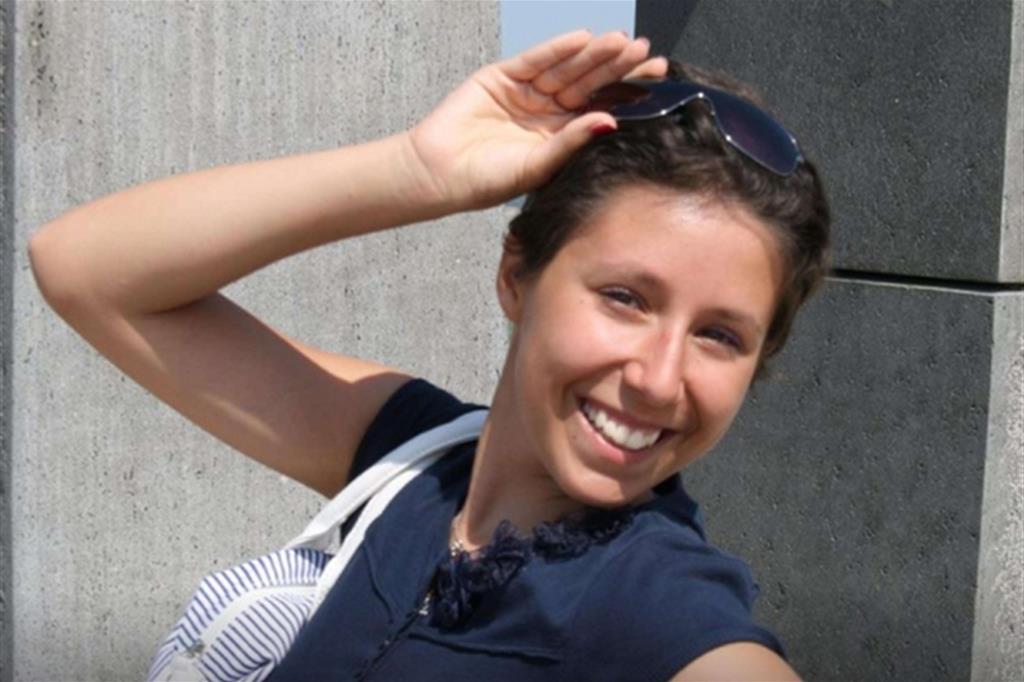 Is-Serva ta' Alla Giulia Gabriela (1997-2011) kienet tfajla Taljana ferriħijja ħafna u mimlija enerġija. Kienet tħobb is-shopping, issiefer u tisma l-pop music. Kellha devozzjoni kbira lejn Chiara Luce Badano. Fi Chiara sabet faraġ meta saret taf li mardet b'kanċer. Għal bidu, loġikament Giulia kellha rabja kbira u kienet tħossha dipressa mid-dijanjosi li ħarġet u kienet tqatta jiem sħaħ tibki. Iżda malajr irċeviet ferħ kbir meta bdiet tħoss il-preżenza t'Alla magħha. Is-sofferenza li sofriet b'paċi kbira ispirat ħafna nies f'dawk is-sentejn qabel ma mietet.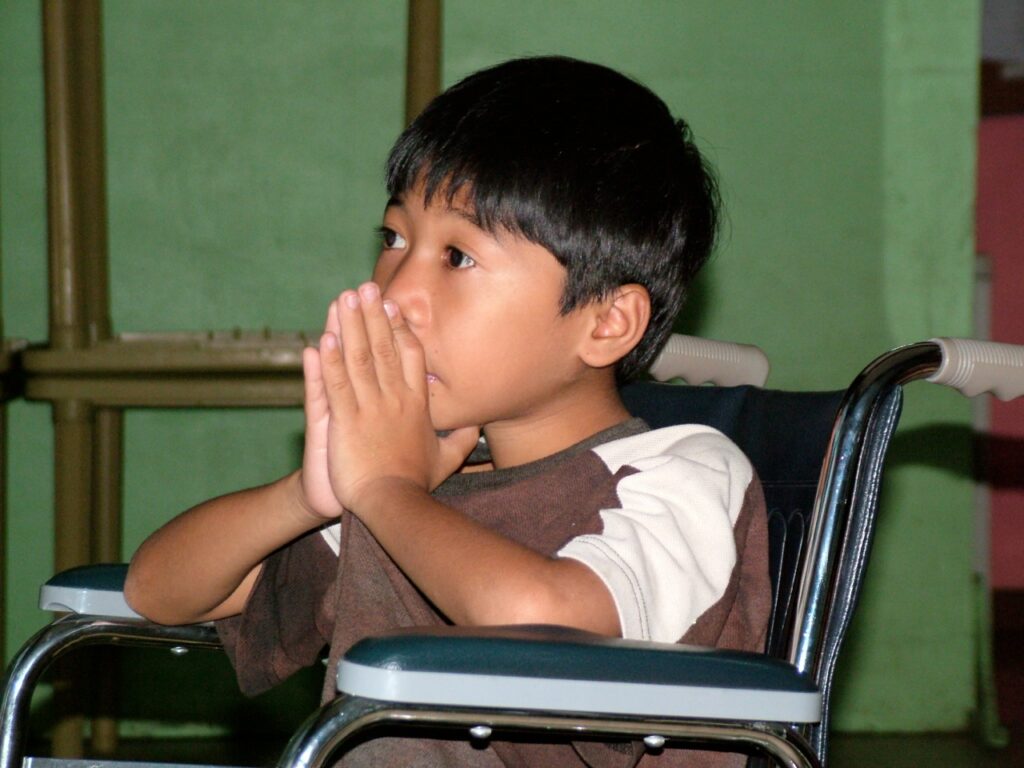 Is-Serv ta' Alla Darwin Ramos (1994-2012) kien tifel fqir mill-Fillippini. Darwin u oħtu qattaw granet sħaħ iqalbu ġoż-żibel biex isibu x'jieklu. Meta kellu madwar ħames snin l-muskoli tiegħu ddgħajfu ħafna u tilef l'abbilta' li jimxi u beda jbati minn marda bl-isem ta' 'Duchenne muscular dystrophy.'
Meta missieru rah f'dik is-sitwazzjoni, poġġieħ jittallab (imma Darwin kien jistħi), sakemm grupp li kien jaħdem mat-tfal tat-toroq stiednu lil Darwin biex imur jgħix magħhom go dar għat-tfal b'diżabilita'. Hemmhekk, il-ferħ ta' Darwin kien kostanti u evidenti ma' kull persuna li kien jiltaqa' magħha. Qatt ma lmenta li l-marda kienet bilmod qed toqtlu u minflok kien jghid li l-marda kienet il-missjoni tiegħu, u l-mod kif iħobb u jafda f'Alla. Darwin miet ta' 17-il sena. L-aħħar kliem tiegħu kien: "Grazzi kbira. Jien kuntent ħafna".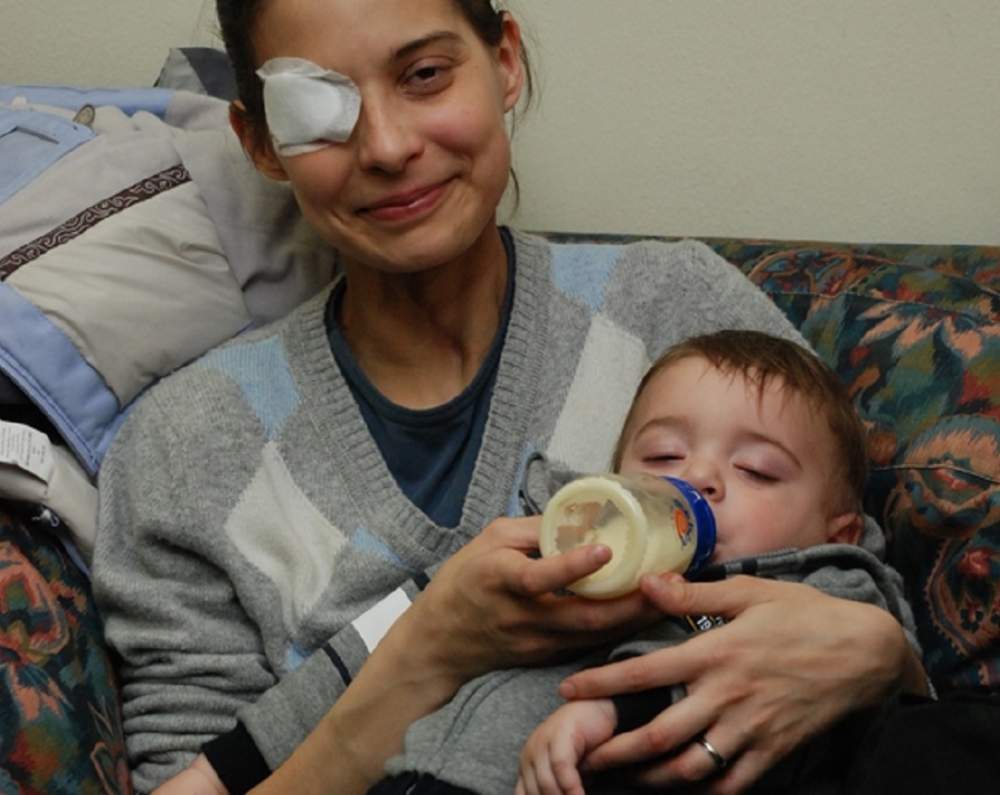 Is-Serva ta'Alla Chaira Corbella Petrillo (1984-2012) – kienet mara u omm Taljana. Wara ħafna diffikultajiet li ltqagħu magħhom fl-għerusija, hi u r-raġel tagħha sabu ħafna paċi fis-sagrament taż-żwieġ. Fil-bidu taż-żwieġ tagħhom huma tilfu żewgt it-tfal, it-tnejn fl-ewwel siegħa wara t-twelid, tifel u tifla. Kienu kuntenti ħafna meta Chiara tqalet bit-tielet tarbija, u kienu aktar kuntenti meta skoprew li t-tarbija kienet b'saħħitha. Iżda waqt it-tqala, lil Chiara sabulha kanċer li sfortunatament malajr infirex ma' ġisimha kollu. It-tobba qalulha li kellha għażla – jew issalva hi u tmut it-tarbija, jew tkompli t-tqala u hi tmut ftit wara li tagħti l-ħajja lit-tarbija. Imlibbsa bil-libsa taż-żwieġ hi mietet gimatejn wara li ikkonċepiet iben.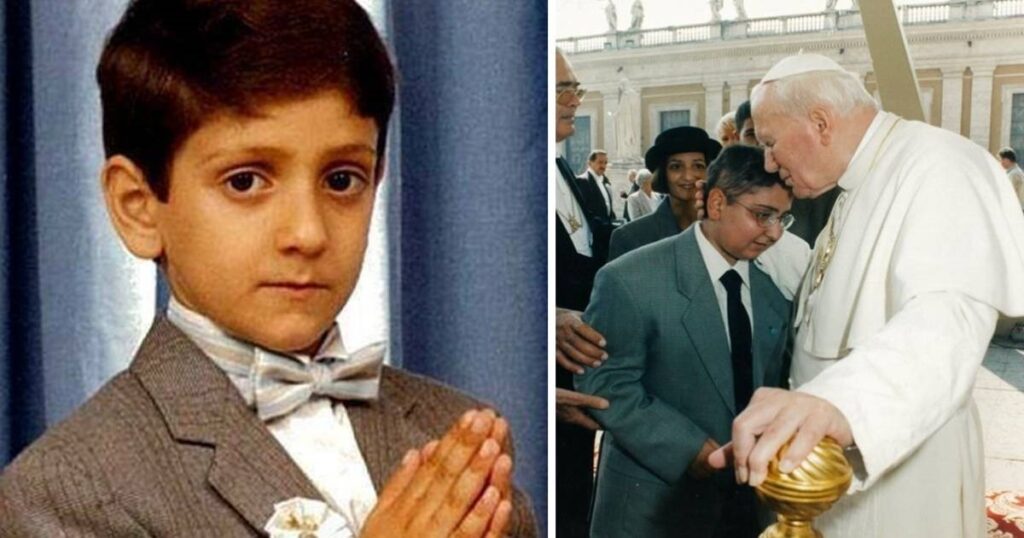 Gilbert Simiana kien żagħżugħ qaddis Malti li miet nhar is-27 ta' Frar 1998, fl-eta ta' kważi 16-il sena, wara li inqas minn sitt snin qabel kien inħakem mill-marda kiefra tal-kanċer. Wara mewtu, bdew jiġu irrapurtati diversi episodji straordinarji fil-ħajja ta' persuni li talbu għall-fejqan jew għajnuna bl-interċessjoni tiegħu.
Gilbert twieled ir-Rabat, Malta fl-1 ta' Mejju 1982, u trabba f'familja sempliċi. Kien tifel fuq tiegħu u ferrieħi iżda fl-istess ħin twajjeb u ubbidjenti. Qatt ma kien jgħajjat jew jirrispondi.
Darba, tad-dar indunaw li Gilbert kien qed ikun ħafna bil-ġuħ, jiġi mill-iskola u mill-ewwel jistaqsi għall-ikel. Wara li marru jistaqsu l-iskola biex jaraw x'kien qed jiġri, sabu li Gilbert kien qed jagħti l-kolazzjon tiegħu lil tifel ieħor li għal xi raġuni ma kienx ikollu x'jiekol l-iskola.
Darb'oħra, Gilbert innota li tifel daqsu ma kienx qed jilgħab waqt il-brejk tal-iskola. Huwa resaq lejh u staqsieħ għaliex kien joqgħod waħdu. It-tifel wieġbu li kien għadu kemm għamel operazzjoni biex jingħata kilwa minn ta' ommu, għax tiegħu kienu mardulu. It-tifel għalhekk kien għadu konvalexxenti u ma setax jiġri jew jitħabat. Meta sema' hekk, Gilbert sabbru u offrielu li sakemm jiġi f'tiegħu hu kien se jakkumpanjah biex ma jkunx aktar waħdu.
Meta kien jisma' lil xi ħadd jidgħi jew jitkellem ħażin kien jikkoreġih bil-ħlewwa.
Gilbert qatt ma kien ifalli lezzjoni waħda tal-Museum. Infatti sal-aħħar jum ta' ħajtu kien imur regolarment anki waqt il-marda tiegħu, ikaxkar u jzappap. U qatt ma kien igerger. Kien iħobb jgħid li meta jikber jixtieq isir membru tal-Museum u jmur missjunarju.
Nhar it-30 ta' April 1992, lejlet li Gilbert għalaq 10 snin, huwa ħass uġiegħ ta' ras qawwi. It-tifel ittieħed għand professor, sarlu CT Scan urġenti, li mill-ewwel indika lil tal-familja li t-tifel kellu tumur f'moħħu, u li kien hemm bżonn isifruh l-Ingilterra biex joperawh.
Tal-familja kollha kienu xxukkjati iżda Gilbert ħa din l-aħbar b'kalma kbira u iktar tard stqarr ma' oħtu Lorainne: "Lor, kemm inħossni xxurtjat li Ġesù għażel lili biex nurih kemm inħobbu b'dan il-mod!".Kien jgħid ma kulħadd: "Alla lili ppreferieni".
Huwa xtaq li, nit-tbatija ta' issa, jibni villa ħdejn Ġesù u li kien determinat li jkun suldat ta' Kristu, u akkost ta' kollox jiġġieled għalih, suldat ċkejken imma leali. L-Arċisqof Scicluna jgħid li dak li jolqtu f'Gilbert huwa li dan "għex ħajja ordinarja sakemm il-Mulej tah vokazzjoni speċjali, dik li l-marda tiegħu jgħixha maqgħqud ma' Kristu msallab u rxuxtat."
Simiana kien igib hekk b'għożża u fl-istess ħin kburija l-badge tal- 'Verbum Dei' fuq sidru. Tant kienet għażiża din il-badge għalih, li meta waqt il-marda tiegħu kien ikun rikoverat l-isptar u hemmhekk kienu jibdlulu l-piġama, huwa kien mill-ewwel jerġa' jilbes il – 'Verbum Dei' fuq il-ġdida.
Kuljum, Gilbert kien jitlob l-Arloġġ Museumin, talba kull siegħa miktuba minn San Ġorġ Preca, u ħmistax-il posta Rużarju, għax kien iħobb lill-Madonna b'imħabba ta' iben lejn ommu. U kuljum, anke meta kien l-isptar fl-Ingilterra, kien jaqra biċċa mill-Bibbja.
Darba waħda, jirrakkonta l-Prifett(katekist) tiegħu tal-Museum, Mario Muscat, Gilbert talbu l-parir u l-permess jistax imur Paceville għax sħabu tal-iskola kienu ħajruh u xtaq jitla' darba magħhom. Il-prifett staqsieh jekk tad-dar kinux tal-idea u hu wieġeb li ma kinux oġġezzjonawlu.
Imbagħad il-Prifett qallu li għal darba ma jimpurtax imma li jekk kien bi ħsiebu kif dejjem kien jgħid, li jkompli fil-Museum, kien ikun aħjar li ma jibdiex bi drawwiet bħal dawn, għax ma tgħinx biex jimxi 'l quddiem fil-vokazzjoni tiegħu. Gilbert telaq, imma jumejn wara sabu u qallu li kien iddeċieda li ma jmurx.
F'Awwissu tal-1996, Gilbert żar Lourdes flimkien ma' missieru. Din il mawra kienet waħda li nisslet eċitament kbir fih.Gilbert, quddiem il-grotta f'Lourdes, talab biex imut mingħajr dnub, u mbagħad jekk trid il-Madonna tidħol għaliħ quddiem Alla u jfiq tagħmel hi, imma l-unika ħaġa important għaliħ kienet li jmut mingħajr dnub. Qal lil oħtu wkoll li l-akbar xewqa li kellu kienet li l-familja tiegħu tiltaqa' miegħu fil-Ġenna.
F'Marzu 1995, il-Papa kien ħatar lill-Ispanjol Mons Josè Sebastiàn Laboa bħala Nunzju għal Malta. Darba, Laboa ltaqa' ma' grupp ta' tfal tal-Museum mixjin fit-triq u staqsihom x'ifisser il-Milied għalihom. U Gilbert tah ir-risposta teoloġika. Laboa baqa' impressjonat ferm b'dan it-tifel. Is-soru li kienet tattendi għall-bżonnijiet ta' Mons Laboa, qaltlu li dak it-tifel kien marid gravament.
In-Nunzju Laboa mar jara lit-tifel id-dar. Din il-laqgħa kienet bħal ta' ragħaj ma' nagħġa marida u sofferenti. Minn dak il-waqt in-Nunzju beda jfittex lit-tifel spiss waqt li jkun passiġġata jew jiġġoggja fl-inħawi tad-dar tiegħu.
Missieru jistqarr kif in-Nunzju kien imur ħabta u sabta d-dar tal-familja Simiana u wara li jidħol ġewwa u jiskuża ruħu tad-disturb, jitlob bil-prudenza kollha biex ikellem lit-tifel. Huwa kien jibqa' jkellmu fit-tul, anki siegħa jew aktar fil-kamra ta' barra.
Mons. Laboa kien spiss iħallilu xi affarijiet, daqqa xi kuruna u daqqa xi santi. Darba waħda waqt waħda minn dawn iż-żjajjar, in-Nunzju stqarr ma' Gilbert li hu kien sejjer għand il-Papa Ġwanni Pawlu u talbu x'jixtieq. It-tifel wieġbu pront pront li xtaqu jgħid lill-Papa li hu kien qed joffri t-tbatijiet tiegħu għas-suċċess tal-vjaġġi pastorali tiegħu.
Imbagħad meta reġa' żar lil Gilbert, qallu li kien kellem lill-Papa dwaru u li dan xtaq ukoll jiltaqa' miegħu.
Mons Laboa wara mhux biss irranġa din il-laqgħa, imma ħallaslu minn flusu flok mill-flus tan-Nunzjatura għall-vjaġġi tiegħu u ta' ħutu. Gilbert u l-familja tiegħu iltaqgħu mal-Papa Ġwanni Pawlu II, li Gilbert tant kien iħobb, fid-9 ta' Settembru 1997. Waqt din il-laqgħa mal-Papa, Gilbert kien kommoss ħafna, eċitat u ferħan se jtir, hekk li meta biesu ma kienx kapaċi jesprimi ruħu bil-ferħ li ħakmu.
Lill-Papa, Gilbert reġa qallu li kien qed joffri t-tbatijiet tiegħu biex jinħasad il-ġid fil-vjaġġi pastorali tiegħu u skont oħtu li kienet preżenti, il-Papa qallu li hu kien tifel speċjali ħafna għal Ġesù li kien magħżul minnu.
Kien wasal l-aħħar jum. L-aħħar li kellmuh tal-familja kien l-Erbgħa 25 ta' Frar 1998. Iż-żagħżugħ kien tilef id-dawl t'għajnejh. Dr. Michael Cassar, it-tabib tal-familja jistqarr li Gilbert qatt ma gerger jew ilmenta mill-marda tiegħu. Jistqarr ukoll li kien sema' lil ta' madwaru jgħidu li Gilbert kien jgħid li "Ġesù bata, mela jien inbati wkoll u noffri t-tbatijiet tiegħi għall-bżonnijiet tal-Papa".
Gilbert kien nofsu konxju, imma setà jisma' u l-qraba tiegħu qagħdu jgħidu r-rużarju ħdejh. Tatu taqliba wara l-oħra, imma kien għad baqa' ftit ieħor. L-aħbar li ż-żagħżugħ qaddis kien qed imut ġriet mar-Rabat u laħqet lin-Nunzju li malli sema' mar jiġri l-isptar. Ħadd ma jaf x'intqal bejn in-Nunzju u Gilbert f'dik l-aħħar laqgħa tagħhom. Nafu biss li meta spiċċat illaqgħa ta' bejniethom, in-Nunzju ħareġ u lil oħtu talabha li malli jseħħ dak li kellu jseħħ. Jibagħtu mill-ewwel għalih.
Kien imdawwar b'tal-familja u fil-fatt miet fi ħdan Kevin, dak iż-żmien l-għarus ta' oħtu u llum ir-raġel tagħha. Miet nhar il-Ġimgħa 27 ta' Frar 1998 fl-Isptar San Luqa. Gilbert kellu 16-il sena neqsin tliet xhur meta miet. Mal-mewt, il-qraba tiegħu jistqarru li wiċċ Gilbert kellu fuqu tbissima ta' paċi li tat paċi lil kull min rah.
Keffnuh u libbsuh il-badge tal-Museum skont ix-xewqa espressa tiegħu. Din il-Verbum Dei, kif rajna, qatt ma neħħieha minn fuqu u saħansitra kien dendilha mas-sodda waqt l-operazzjonijiet tiegħu meta ma kienx jista' jilbisha fuqu, ħaġa li tant impressjonat lit-tobba barranin. Ikkuntattjaw lin-Nunzju li malajr ħa f'idejh il-funeral tat-tifel u li ma ħalliehx għal mument wieħed minn dak il-ħin 'il quddiem sakemm tkaħħal il-qabar.
Il-funeral ta' Gilbert sar fil-Knisja ta' San Pawl ir-Rabat. Il-knisja kienet miżgħuda bin-nies, li kienet tfur sa fuq iz-zuntier. Min kien hemm, jgħid li lanqas fil-festa titulari ma qatt rat daqshekk nies dik il-knisja. Il-quddiesa tal-funeral tmexxiet minn Monsinjur Laboa li kif wera sa min qabel ma miet, xtaq li jieħu kollox f'idejh mill-mewt 'l hemm.
Laboa deher imqanqal il-ħin kollu. Kien tilef ħabib żgħir fl-età, imma ġgant fil-fidi u ħassu onorat li setà jagħtih hu f'isem il-Papa u l-komunità nisranija lokali l-aħħar tislima tal-Knisja. Laboa għamillu omelija li matulha ddikjarah "Domenico Savio ta' Malta", "żagħzugħ Malti li anki mejjet, il-preżenza tiegħu qanqlet ħafna ġid kif setgħu jaraw b'għajnejhom stess".
Wara li Gilbert miet u s-santi tiegħu bdew jinxterdu fid-djar, jingħad li kien hemm diversi każijiet ta' fejqan, hekk li l-familja bdiet tirċievi spiss ittri bi stejjer ta' fejqan u ta' konverżjonijiet flimkien ma' xi ħaġa żgħira tal-flus għall-quddies ta' radd il-ħajr.
Mons. Laboa, min-naħa tiegħu, ma kellux dubju li Gilbert kien qaddis. Kien hekk ċar għalih li waqt pranzu f'Ruma fis-27 ta' Jannar 2000, fil-konklużjoni tal-kawża ta' Dun Ġorġ Preca, esklama li issa – li l-kawża ta' Dun Ġorġ waslet sa tmiemha – hemm dan it-tifel Rabti.
Gilbert dam midfun ir-Rabat sentejn u tliet xhur. Wara, fis-sena 2000, nqala' minn hemm biex jindifen fiċ-ċimiterju ta' Ħad-Dingli fejn għadu hemm sal-lum. Meta nqala' b'għaġeb kbir instab li l-istat tal-ġisem ta' Gilbert kien fi stat tajjeb ħafna, hekk li tabib li kien preżenti stagħġeb kif wara sentejn u tliet xhur kien għadu miksi bil-laħam minkejja l-marda kiefra u tterapiji kimiċi kollha li għadda minnhom qabel ħalla din id-dinja.
X'inhu l-messaġġ ta' Gilbert għalina lkoll, b'mod speċjali għaż-żgħażagħ Maltin u Għawdxin? L-ewwel, li l-kwalità tal-ħajja ma titkejjilx mit-tul tal-jiem u mis-suċċess fid-dinja, iżda minn kemm wieħed jagħraf jingħata lil Alla u lill-proxxmu fl-imħabba anke jekk dan ifisser ċaħda u tbatija.
U għalhekk, li aħna lkoll imsejħin għall-qdusija li hi l-perfezzjoni fl-imħabba, bħalma għallimna San Pawl: 'Alla għażilna sa minn qabel il-ħolqien tad-dinja biex inkunu qaddisa u bla tebgħa quddiemu fl-imħabba'. Kliem tassew ta' sfida kif ukoll ta' kuraġġ. Jalla l-eżempju ta' Gilbert Simiana jqanqal lilna lkoll biex infittxu ħajja ta' kwalità billu nfittxu l-qdusija, kulħadd skont is-sejħa partikulari tiegħu.
(Ħafna mit-tagħrif huwa meħud mill-ktejjeb "Alla lili ippreferieni" ta' Jane Camilleri Haber)
Most of this post was taken from Meg Hunter- Kilmer who published the article on 05/15/21
---
---