As we are journeying through the liturgical time of Lent, a number of schools organized activities to help students and staff to reflect on this particular time in everyone's lives.
Different Faiths' Flag and Foodbank at St Benedict College Birżebbugia Primary
Students created flags of different faiths to Mark World Interfaith Harmony Week. A food bank was also organized to support families in need.
Random Act of Kindness at St Theresa College Birkirkara Primary
Let's make kindness the norm! People were invited to visit the school and see the Kindness Exhibition that was put up on the school boundary gates. The "Kindness Exhibition" is an initiative of the School Council members.
Good Deed of the Day at St Theresa College Ta' Paris Middle School
Every day both staff and students were presented with a good deed and everyone was free to practise it.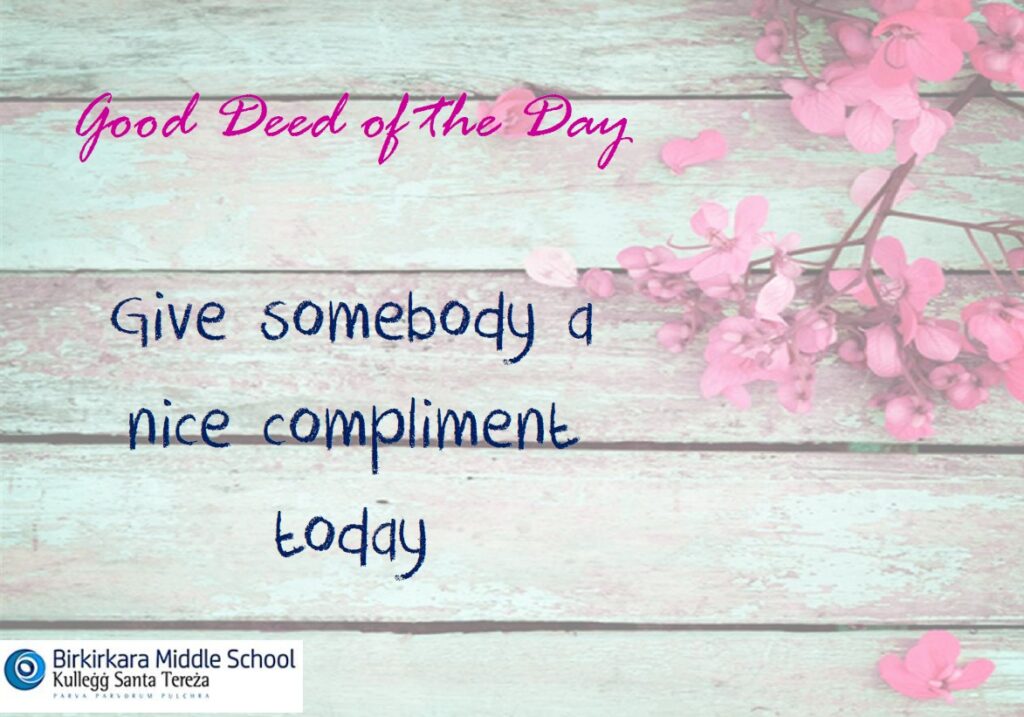 Peace and Love Doves at St Clare College Pembroke Primary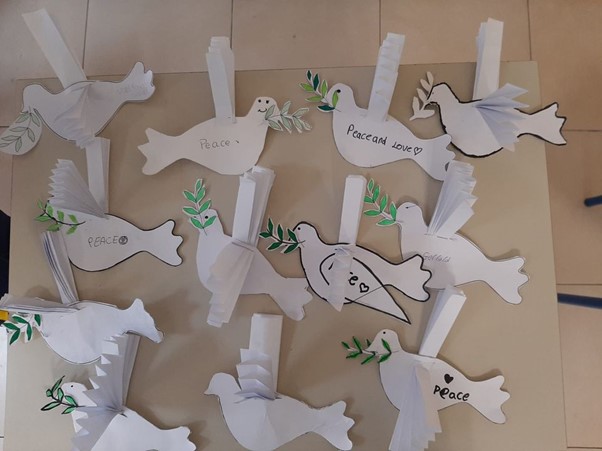 The Language of Peace & Chemistry Experiment (acids, bases and salts) at St Clare College Pembroke Secondary
This experiment complements Albert Einstein's quote: "Peace cannot be kept by force. It can only be achieved by understanding". In order to support Ukraine, the colours of the Ukrainian flag were used.
Peace Fest and Lenten Talks at Maria Regina College Naxxar Primary School
The Lenten talks took place at the Naxxar Parish. Each class created and presented activities related to peace to share the message of peace as well as to support the situation in Ukraine. All students participated in a celebration on the Our Lady of Sorrows day.
Maria Regina College Naxxar Middle School
Year 8 students participated in a discussion Radio programme on Radju Maria. The programme tackled The Pope's Visit to Malta.
We Stand with Ukraine – St Benedict College Qrendi Primary School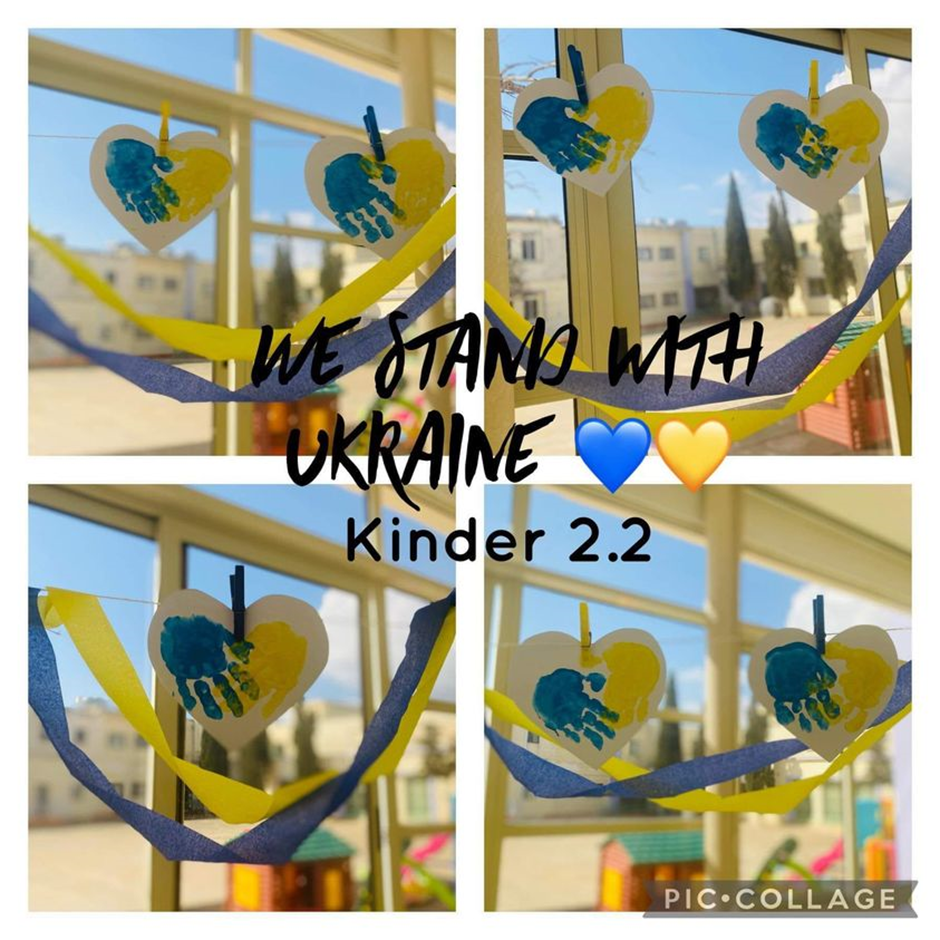 Sowing the Seeds and Our Lady of Sorrows Mass at Maria Regina College Għargħur Primary
Sowing seeds from students to students. Taking part in the Seeds for Students Campain by Ambjent Malta.
All students participated in the Our Lady of Sorrows Mass led by the Archpriest Fr Christopher Galea.
Act of Kindness at St Margaret College Cospicua Primary
Students were asked to bring preserved food, drinks and clothes to be donated to the Ukranian refugees in Malta.
St Nicholas College Attard Primary School – A Visit to Roseville Old People's Home
Children collected oranges, bananas, apples or biscuits, and through an organized walk they donated all the items collected to all the residents of Roseville Home. This was a cross curricular activity whereby the students learnt about our community, about people who helps us, road safety and our duty to help each other.
Via Crucis, the Seven Visits, Lenten Talks and the Our Lady of Sorrows Eucharistic Celebration at St Ignatius College Qormi St Sebastian Primary School
The Eucharistic Celebration on Our Lady of Sorrows Day with the participation of students and staff was celebrated by Fr Ewkarist Zammit and Fr Nicholas Dimech. The Lenten Talks were delivered by Fr Nicholas Dimech. A Via Crucis and a project related to the Seven Visits of Maundy Thursday were put up in the school foyer to decorate the foyer for Lent and to help all those passing by to reflect on this important liturgical time.
Smile for Peace Week at San Ġorġ Preca College Middle School Blata l-Bajda
A number of activities that relate to peace and different subjects took place. Students made crafts related to peace, wrote poems and literature, and collected food items for the people of Ukraine. On a casual day, students and staff observed a minute of silence for Ukraine, forming the human word 'peace', while lightening the flame of peace.
One of the poems:
Peace is reading a book
or finding time to cook
Peace is playing football
Or giving my friend a call
Peace is playing games
while shouting my friend's names
Peace is being alone
without my phone
Peace is hearing birds
singing their own words
Peace is listening to music
or playing a funny trick
Peace is walking my dog
and throwing him a log
Adoration of the Blessed Sacrament at St Theresa College, St Venera Primary
Adoration of the Blessed Sacrament took place at St Theresa College St. Venera Primary. Fr Maurice Abela O.Carm walked along the school corridors holding the Ostensory, blessing all the students who were scattered quietly around the corridors. A virtual and interactive Last Supper Display has been an interesting activity for the students who while going around the display they were acquiring information about the disciples and objects in the display directly from their tablets.
Celebration of Our Lady of Sorrows and other activities at SMC Verdala Secondary
At the beginning of Holy Lent, St Margaret College R.E. students hand paint SOLIDARITY CARDS for Ukraine children
On Thursday, 3rd and Friday, 4th March 2022, the start of Holy Lent, a group of Form 4 (year 10) R.E. students at St. Margaret College Secondary School Verdala, celebrated the beginning of Holy Lent by committing themselves to think more of Ukraine people in their daily prayers. Their teacher Martin Azzopardi sdc invited his students to reflect upon Pope Francis' message for Holy Ash Wednesday.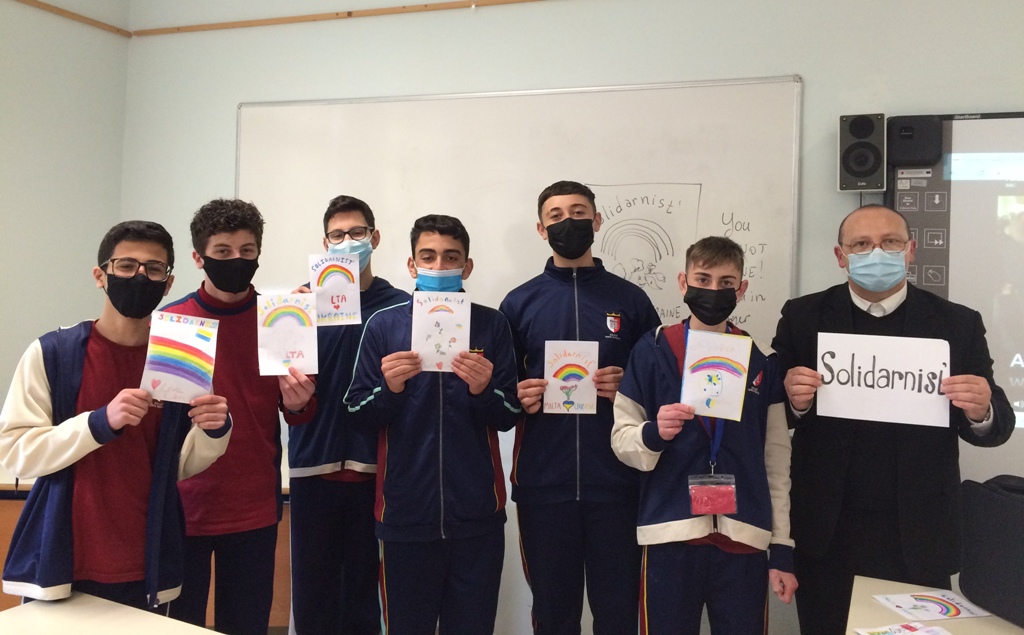 On Ash Wednesday, 2nd March 2022, His Holiness the Pope said that the Lenten season provides an opportunity for conversion and interior renewal. "Let us prepare ourselves with confidence to follow the Lenten journey that begins today as an opportunity for conversion and interior renewal in listening to the Word of God, in prayer, in the daily exercise of charity towards one's neighbour," said Pope Francis.
Pope Francis also reminded pilgrims gathered in the Vatican's Paul VI Hall that March 2 is a global day of prayer and fasting for peace in Ukraine. Pope Francis also said, "Our prayer and fasting will be a plea for peace in Ukraine, remembering that world peace always begins with our personal conversion, following Christ."
So while reflecting upon Pope Francis' message, St. Margaret College students launched a SOLIDARITY campaign in hand painting solidarity cards for Ukraine children. This campaign was launched by teacher Martin Azzopardi sdc who said: "Just as Jesus showered His love on us, we are also called to love and express that same unconditional love with others (John 15:12). So inviting our school students to hand paint a solidarity card for Ukraine children is a noble act of charity which makes our students more educated and sensitive to human needs. Ukraine children are surely in need of our support and just a simple card of solidarity can make a big difference. "
During this exercise, students used their imagination and creativity in hand painting solidarity cards using the Ukraine word "Solidarnist'' (meaning solidarity) as a card title. The rainbow of colours and flowers symbolizes a message of hope for Ukraine children.
All the solidarity cards will be passed on to the Ministry of Education of Malta so they can be officially sent to Ukraine children who are experiencing the suffering of war.
This school project aims to reach five of the main goals proposed by the United Nations Sustainable Development Goals: Good Health and Well-being, Quality Education, Gender Equality, Reduced Inequalities, and Peace, Justice and Strong Institutions.
On Friday, 8th April 2022 St. Margaret College Secondary School Verdala, Cospicua, celebrated an online Our Lady of Sorrows Holy Mass for the whole school observing the Covid19 health restrictions. The Holy Mass was celebrated by the school Religious Counsellor, Fr Carmelo Spiteri ocd with the help and assistance of the School Religion Team. The spiritual intention of the Holy Mass went to the victims of war especially those who died in Ukraine and in Yemen.
On Sunday 3rd April 2022, a group of Form 4 (Year 10) students at St Margaret's College Secondary School Verdala, were offered the opportunity to participate in the Pope's Holy Mass celebration held at the Granaries in Floriana, Malta.
On Tuesday 15th March 2022, more students at St Margaret's College Secondary School Verdala were offered Eucharistic Adoration sessions in the school chapel. These adoration sessions were organized by the School Religious Counsellor, Fr Carmelo Spiteri ocd in collaboration with the R.E. team.